Slow day...
A little sunburn and a little tiredness left us inside for the most part...
...although I am beginning to regret taping that Adam-12 marathon for Daniel <g>!
7/26/2002 8:10:28 PM
---
Any thoughts on that?
---
Friday 7/26/2002 8:09:36 PM
---
Music news...
From Tony Hightower, who has more than a clue musically, we find the link to One Hundred Albums You Should Remove From Your Collections Immediately (Caution: strong opinions and adult language)...
A sample:
It is the Hotel California or "Stairway to Heaven" of the reggae world, which means that its fans have ruined the album for everyone, including you, by playing it into the ground. Every Birkenstock-wearing, hackey-sack-playing, REI-shopping bastard in the whole world has played this disc at every party, gathering, and road trip in the history of the world, and I for one have had enough...
That one is for Bob Marley and the Wailers', Legend.
Ummm, yeah, I do have some from that list...
7/25/2002 11:30:49 AM
---
The Thursday Threesome...
Onesome: all - all the world's a stage... So what types of issues put you on your soapbox? Hmmm... I'm pretty much into fair play and equality issues; violate those and you'll hear from me. ...and rampant idiocy; that's a hot button with me.
Twosome: things - what sort of things are you most likely to purchase "spur of the moment" when shopping? Oh, at the hardware store: stuff to work on the yard! ...like drip watering parts. ...and flowers (just one flat<g>). ...and maybe some bark for the area to the side of the pool.
Threesome: girl - sugar and spice and everything nice? Come now, what are YOU really made of? Well, I'm a guy, so now we're talking snips and snails and puppy dog tails, aren't we <g>? Man, what a recipe!
How about you? Tell us all about it, over on The Back Porch...
7/25/2002 12:51:54 AM
---
Any thoughts on that?
---
Thursday 7/25/2002 12:45:01 AM
---
Balancing Act...
Thank you, Patti Ann! Here's mine back to you:
East coast, west coast...
Nope, I can't do video from here; but I think you have the idea <g>...
7/24/2002 4:25:15 PM
---
Any thoughts on that?
---
Wednesday 7/24/2002 4:11:17 PM
---
Definitions, revisited...
I was reading an article about something or other when I ran across this line: "...decorated with geometric patterns in retro colors from the 1970s."
Sure it's been thirty years, but...
Yeah, yeah, I know I'm old; but come on: the fifties are retro to me <g>!
7/23/2002 10:33:50 PM
---
Any thoughts on that?
---
Tuesday 7/23/2002 10:31:06 PM
---
Speaking of shadows...
Her name is Amanda. Amanda is nine...
Level one: "Can I play with you guys?"
Level two: "Can Bradley come out and play?"
Level three: "Is Bradley okay?" This, after a minor cut that ended his play time.
Level four:
"Can Bradley play after dinner?" "That would be in about an hour, right?"
Level five: In the fifteen minutes between levels three and four, she'd changed out of her beach attire into a smashing red and white outfit with the cutest little earings...
Shelley is beside herself <g>!
7/22/2002 8:25:34 PM
---
Just playing around...
...at Janet's Shadow Project:
7/22/2002 9:52:20 AM
---
Any thoughts on that?
---
Monday 7/22/2002 9:39:20 AM
---
Too much fun???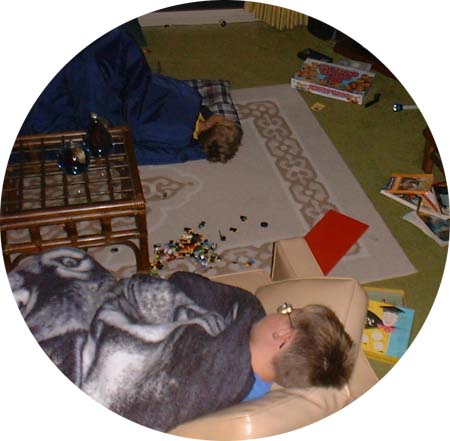 Hours in the water; hours in the sand...
7/22/2002 12:04:01 AM
---
Any thoughts on that?
---
Sunday 7/21/2002 10:45:04 PM
---
Margaritaville...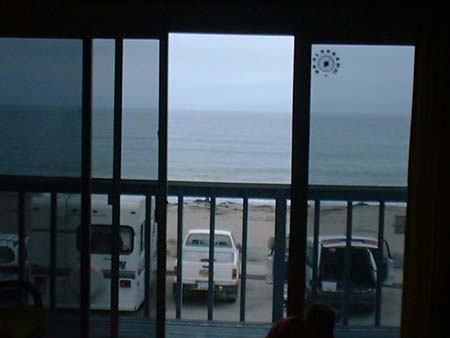 Yeah, I knew the job was dangerous when I took it...
7/21/2002 12:18:15 AM
---
Any thoughts on that?
---
Saturday 7/20/2002 11:56:59 PM
---