Dreaming...
I mentioned over on my Daynotes pages that we had used one of my stock photos for a homework assignment... Since Daniel is on the disabled list, he and Shelley knocked out his "Dream Jar" project.
They were supposed to use some sort of container to illustrate a dream they wrote for a character in a reading book from school (no, I don't quite get it either). Short version: "Hey Dan, we need a picture of a beach scene..."
Okay...
The image links to an overview of the project. ...and here is the stock photo for those of you who miss the summertime already.
9/20/2002 12:14:53 AM
---
Any thoughts on that?
---
Friday 9/20/2002 12:13:04 AM
---
Housekeeping...
First and foremost: yes, that is Daniel's leg in the green cast. I totally forgot to cross link the picture to the background stories!
---
..and we now have an ID on that bee from Sunday, thanks to John VanDyk (yes, he of Metadata Plugin fame). Since his day job seems to have driven him a bit buggy, he pulled up this one for me. Yikes; it turns out they can sting! They'll have to find a new home as the woodshed is right next to the toy shed...
Thanks, John!
9/19/2002 9:41:55 PM
---
Any thoughts on that?
---
Thursday 9/19/2002 8:59:21 PM
---
A very, very long day...
...but a nice ending.
9/17/2002 11:18:45 PM
---
Any thoughts on that?
---
Tuesday 9/17/2002 11:11:38 PM
---
Green???
9/16/2002 9:32:49 PM
---
Any thoughts on that?
---
Monday 9/16/2002 9:28:35 PM
---
Hey, remember that bee???
The one that bored the tunnel in that log?
I never have been able to get a shot of one of them in motion; they hover almost like hummingbirds and never seem to land. Well, a couple of them have completed their life's mission and moved on to the great log in the sky (nope, no clue; just found them on the ground), so I was able to get a picture of one not so wee beastie: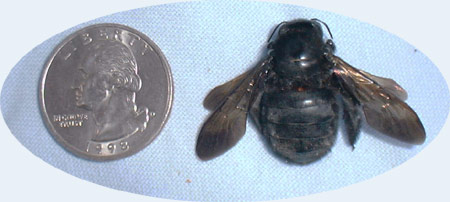 Not to worry, others are still keeping me ducking as I pass the woodshed...
9/15/2002 10:25:07 PM
---
Any thoughts on that?
---
Sunday 9/15/2002 10:02:37 PM
---