Pinks and blues...
I'm always impressed with the sunsets in New Mexico; those blues just knock me over...
But every so often, I can get one of our pink ones...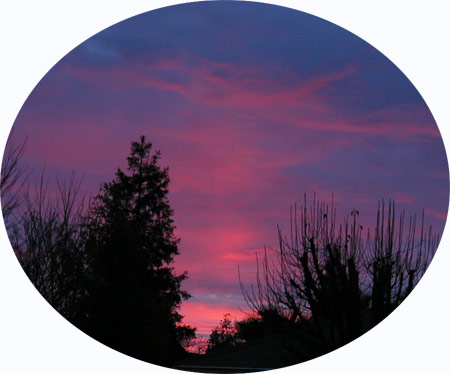 ...and I really do hope you have an LCD monitor so you can get the pink without it being too dark.
...and "Thanks", garret!
01/03/2003 00:15:01 AM
---
Any thoughts on that?
---
Friday 01/03/03 00:00:00 AM
---
Even the cat...
So I was reading kd's entry about how she is playing more Sonic the Hedgehog than surfing now that she's among the dialup gang.
...and I look up to find this:
01/02/2003 09:53:23 PM
---
Just another month or so...
01/02/2003 09:11:01 PM
---
Onesome: Postage Hey, did all your packages and cards get delivered? ...or are you (or perhaps someone on the receiving end) still expecting something 'any day now'? Hmmm... I'm still waiting to hear if one package made it to its destination, but I may not know that for another day or two due to some zigging and zagging. ...and as for cards? Well, I didn't send any out, so you can stop looking for one from me <g>. ...and I just wouldn't know if I have anything still inbound, would I?
Twosome: Due: Are you due for a break after all the excitement of the holidays? ...or are you just moving on with life? Maybe the upcoming weekend is a good thing to see on the horizon? Oh, I am sooo ready for a "Do Nothing Day"! Holidays are just a hustle and bustle around our place; and with the addition of some typical winter illnesses scattered among the clan, we've really had to push to get things done. So, yeah, this weekend is something to look forward to!
Threesome: Two cents... What's your two cents on things wintery? Has it been one you can handle so far or a bit too much for your taste? Ummm, so far so good. Some rain, but not enough to cause major problems (or abate our typical drought); some fog, but not too bad yet; and lots and lots of sunshine have made it an okay California winter. I mean, when you're taking down the outdoor Christmas lights wearing shorts...
What happening with you? Let us know, over on The Back Porch...
01/02/2003 11:15:01 AM
---
Any thoughts on that?
---
Thursday 01/02/03 10:30:00 AM
---
Are you ready for this???
So I was minding my own business, and wandered off to the store this evening for milk and cookies (Santa wiped us out, or so it seems)...
...and there, next to the cart with the 95% off Christmas stuff, I found:
A Ten Foot Long Valentine's Day Display!
I guess forty-five days is barely enough for the marketing crowd...
01/01/2003 10:00:10 PM
---
01/01/2003 00:01:01 AM
---
Any thoughts on that?
---
Wednesday 01/01/03 00:00:00 AM
---
Wanna' see some beautiful shots???
Bobbi was out wandering again...
(click the graphic for the link)
Image Copyright 2002 cobaltika-studio
12/31/2002 01:30:15 PM
---
Any thoughts on that?
---
Tuesday 12/31/02 01:00:00 PM
---
Those Angry Elves???
Well, Lisa's got geese! ...and Patti's got Mac!
There's something cosmic there. ...or maybe it's just the meds.
I'll go quietly, officer...
12/30/2002 09:54:55 PM
---
Any thoughts on that?
---
Monday 12/30/02 09:09:09 PM
---
Hey, guess what???
Lorraine, Kitty's mom, that nice lady who adopted kd and me one evening, is having another birthday today!!!
Go, Mom! ...and I guess I'll root for the Packers 'cause a win would be a nice present for her <g>!
So would your wishes. Why not take a moment to say
"Hi!"
12/29/2002 00:01:01 AM
---
Any thoughts on that?
---
Sunday 12/29/02 00:00:00 AM
---
Oh, yeah...
In the midst of my introspection about walking last night, I came out of the store to find this combo parked in the Ralph's lot next door:
Now, if I had to travel around the country, I guess that would be okay...
12/28/2002 11:33:22 PM
---
Any thoughts on that?
---
Saturday 12/28/02 11:00:00 PM
---