The fog wins out...
...rising over the land once again.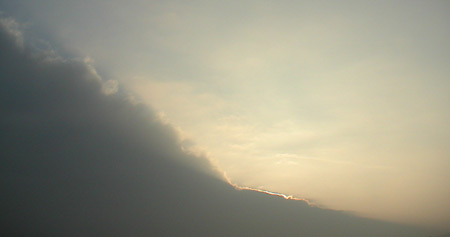 01/31/2003 11:55:52 PM
---
Geek stuff...
Coupla' things about RSS feeds and Trackback over on the Daynotes pages...
'Course, if you are using a news feed, you already knew that <g>!
01/31/2003 11:45:42 PM
---
Any thoughts on that?
---
Friday 01/31/03 11:30:00 PM
---
...as the fog and the sun fight their morning battle.
01/30/2003 11:45:00 PM
---
Echoes: What sound do you hear from time to time that immediately draws up an echo from the past? Sirens... Particularly the siren/air horn combination that recalls my days in the fire service. The nice thing is that it usually calls up memories of my early days as a medic, working with a cool partner and breaking new ground as we helped develop a system...
Visions: ...and what about something you might see now and again that evokes a scene from days gone by? Heh. Something in the way Daniel was walking up to the car after church on Sunday drew me back to when he was first walking so long (yesterday) ago... It was enough to make me go up and hug him and tell him about it (quietly, of course).
Memories: "Misty water color memories"? Is there a painting or a picture you like to look back on just to remember a certain time or place? Yeah, several... There's a laser 3-D cutout of Shelley and me on our honeymoon in Hawai'i that recalls the start of a new life for me. ...and a picture of Daniel from school that I just enjoy. ...and one of Brad sitting on a windowsill watching something outside.
What sends you back "Somewhere in Time"? Let us know, over on The Back Porch...
01/30/2003 11:00:00 AM
---
Any thoughts on that?
---
Thursday 01/30/03 10:45:00 AM
---
Foggy morn...
01/28/2003 11:20:22 PM
---
Any thoughts on that?
---
Tuesday 01/28/03 11:15:00 PM
---
Grey and blue...
Okay, I'll admit to a love/hate relationship with the central valley fog... Yes, I absolutely dislike the mood I fall into when it continues for too many days. SAD, really... Then there are the horrendous traffic accidents we experience here, usually from someone(s) traveling too fast for conditions. Those take a mental toll over the years and certainly prey on your mind as you negotiate the roads on your daily business.
...but I have to admit some ambivalence as I once again walk outside to watch and listen for a moment. The glow from the street lamps is muted and vision fails completely in the near distance. ...and sounds are both muted by the fog and yet somehow carried very clearly as they bounce along the pavement.
When I went blading this evening, the ride was a study in contrasts. The clearing as I left work hadn't reached as completely here on the edge of the rural; and the view to the west was of a very light, very grey, very delicate veil rising from the ground. ...and the sky above was showing signs of a foggy sunset, where the sun tries to break through between the clouds above and the fog below. But as I rounded a corner and could look to the east, the fog that hadn't lifted since morning was showing it's strength, the grey-blue color extending from ground to sky. ...and seeing beyond a quarter mile was not to be.
...and the contrast played out as I wound a few miles under my wheels. To the west the sunset broke through the fog and lit up the clouds in shades of pink. ...and as I'd turn back to the east, the mantle of grey would be moving ever closer. By the time I'd made the last turn toward home, the show in the western sky was over, with just the barest hint of sunlight lingering in the distance behind the shadows in the sky. ...and from the east, the advancing barrier overtook the day and wrapped us in its cold grey once again.
I'm torn... I don't like the cold and the damp and the oppressive feel, but I do like to take the occasional walk just to relax.
...and then there's the picture or two that can show up in the viewfinder on a foggy day.
<sigh>...
01/27/2003 11:59:59 PM
---
Oh that -e-...
Can you imagine winning an award for not having comments? Yeah, well... Eric's like that: totally whacked and totally, well, whacked. (Warning: that site is not work safe, family safe, fire proof safe or even safe for your sanity. It is a refreshing change if you enjoy life in the raw...
Thanks, bud; I'd make a comment, but...
01/27/2003 10:45:30 PM
---
Mood swings...
It was sunny today when I left for work. For about a mile... Then the vast greyness enveloped me for yet another day. Every window I passed in the morning, every mile I drove in the afternoon... The same grey backdrop to life...
And yet, for one brief fraction of the day, as I was leaving the building to go home and blade...
01/27/2003 10:30:30 PM
---
Any thoughts on that?
---
Monday 01/27/03 10:15:00 PM
---
K.I.S.S this...
Okay, 'splain this to me. ...and please use words containing only one syllable; 'cause evidently I'm missing something:
I replace the smoke alarm batteries on a regular basis (usually whenever Daylight Savings Time changes; sure, they don't need it that often, but what the heck). ...and it's just a backup, but I don't trust the hardwired ones 'cause what happens if the power fails, -neh?
So why is it the blasted thing starts chirping sometime after midnight when it decides it needs feeding? ...and just a few months after it's been fed? ...and when the stepladder is in the laundry room (said room being where
the yowling cat
is already ensconced for the evening)? ...and when I'm thoughly kicked back (see
below
)? ...and have to climb that stepladder (see
below
)? ...and whilst the chirping continues? ...and wakes up the eldest? ...who proceeds to advise me the toilet is plugged?
So, how is it I'm on top of a stepladder dealing with a smoke alarm battery and then plunging a toilet at 0100?
<datapoint>The Richard Harris/Vanessa Redgrave Camelot still rocks after all these years...</datapoint>
01/26/2003 01:45:30 AM
---
Any thoughts on that?
---
Sunday 01/26/03 01:00:00 AM
---
Yeah, well...
I hear it's cold in Somerset County, Pennsylvania right about now... How about something to look forward to in a few months?
Yep, even on yet another foggy day...
Oh, and for those of you curious about how that plant from the New Year's Splash Page is managing:
He's growing like a champ!
...and Dawn's daffodil is also getting with the program: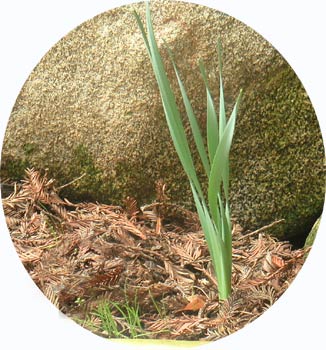 Back to what I was doing <g>...
01/25/2003 11:59:59 PM
---
Time to put the brakes on...
Sometimes when I've been pushing it a little hard for a little too long on a day off, the best thing to do is to grab a drink and a movie and take myself out of the game for a while...
Hmmm... Maybe dinner first.
I'll get back to you...
01/25/2003 09:30:01 PM
---
Any thoughts on that?
---
Saturday 01/25/03 09:20:00 PM
---