A different style...
4/25/2003, 2359
---
Any thoughts on that?
---
Friday 4/25/2003, 2345
---
Onesome: View- What is your favorite scenic site, either around your place, where you've traveled, or just that one special picture (like that Ansel Adams "Half Dome" shot)? Hmmm... I'll have to say that view of Moro rock in the middle distance. That means we've made it to the coast and can chill for a few days...
Twosome: From- How far is it from home to work? Are you a long distance commuter or do you just schlep on into the dining room/office? With the latest freeway extension and a corporate move, I'm about fifteen miles from work, all but about one mile on the freeway. Oh yeah, the commute was nearly forty-five minutes just a few years back.
Threesome: Afar- for the travelers out there, just how far have you gone? I mean, is the trip to Grandma's about it? ...or have you made it farther abroad? Oh, we are such stay at homes... I've made it to the state of Washington a time or two. ...and Toledo once (John Denver was correct). ...but I wouldn't mind getting out and about a bit more. Something about two anchors...
How about you? Let us know, over on The Back Porch...
4/24/2003, 2239
---
Rainbows and baseball...
...that was our evening!
Yep, weather all around us, and even a light rain falling at times. ...but Brad had several hits; this shot caught everyone in motion, the bat hitting the dirt and even the ball in flight.
...and as I'm taking photos, Daniel kindly pointed out I had a companion a few inches from my hand.
Of course I took a shot!
4/24/2003, 2207
---
Any thoughts on that?
---
Thursday 4/24/2003, 2145
---
As requested...
4/23/2003, 2320
---
Faith renewed...
What with all the worry about the kids watching too much TV and playing too many video games and getting too much information too soon and just worrying yourself to death some days as a parent... Well, it's just nice to know you can go for a long walk with one kid (while Mom and the other tackle a homework assignment they need some quiet for) and find out kids still pick up shiny rocks and bits of broken pottery and cart them home in their pockets to present to their moms with a, "Look what we found on our walk!"
Of course, what has changed is for the kid to ask to borrow the camera and take a shot to be posted...
Today's collection...
4/23/2003, 2201
---
Any thoughts on that?
---
Wednesday 4/23/2003, 2000
---
As promised...
4/22/2003, 2257
---
Any thoughts on that?
---
Tuesday 4/22/2003, 2000
---
Ummm...
4/21/2003, 2134
---
Now, that's not something I see every day...
...cars hydroplaning on the freeway on the way home!
Oh, yeah! I started home into a light rain. ...and the rain continued to build as the miles rolled along. ...and then I felt the car shift a bit and realized the winds had really picked up.
...and it was about that time that I reached down to kick the windshield wipers up another notch, only to realize I already had them running at max. Okay! ...and that's when I noticed the car up ahead seem to drift a bit from the track he'd been on. Uh-oh...
Yep, my turn next: the water was coming down faster than freeway could drain. ...and the rain grooves in the concrete weren't doing a thing. Great, at least I was dropping speed already and it wasn't too bad when the wind knocked me over a few feet.
...but that's when the hail started <g>!
It's been a most interesting Spring...
4/21/2003, 2044
---
Any thoughts on that?
---
Monday 4/21/2003, 2000
---
Powered by...
Just so John doesn't think I'm shining him on (in Susan's comments)...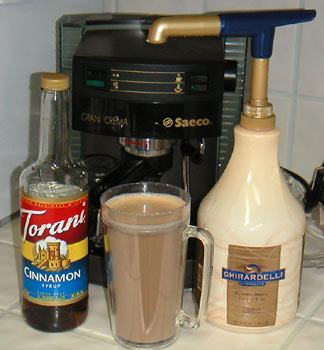 Which also explains the proliferation of posts on a Sunday morning...
4/20/2003, 1046
---
A moment of discontinuity...
...as I checked over the bacon selection at the store. Ah, 30% less fat, "Center Cut", from the same brand Shelley likes! Cool. No, wait: the pieces are nowhere near as long. WT???
Hmmm... Let's take a look... Okay! Let's charge the customer more money for smaller portions (12gm vs 14gm) for the same amount of saturated fat! Excuse me while I get a clue...
...and the 30%? In small print: "...than USDA standards". Oh, that standard...
Marketing 201...
4/20/2003, 1029
---
Early Easter morning at the store...
...and the usual eclectic collection is out and about (besides the guy dealing with the Bacon Situation): the gals with ready-made pie crusts and container after container of Cool Whip, the guy with two bags of ice explaining to us that he's already running late but it's because the twins slept late and how strange is that, and the poor guy I watched wander out in a daze from the grocery store and just stare at the door of the Hallmark as though he could just wish it open...
Oh, and the Bacon Situation? It seems the cats have figured out how to get unopened packages of bacon from the bottom drawer of the refrigerator, cook them, chow down, and clean up the mess! ...and all late at night while the humans sleep. There seems to be no other explanation...
4/20/2003, 0948
---
Even the Easter Bunny...
4/20/2003, 0841
---
Making a splash...
...but with a message.
The Easter 2003 splash page...
Take your time...
...and just enjoy the view.
For no matter how long we try to focus beyond the moment... Or fix on the torn and damaged portions... Or try to clearly see what's just ahead, blocked by yet another distraction... Our eyes, our vision, our being--- are inevitably drawn to that spark of Light.
Thank you, Father...
---
Have a wonderful Easter, gang!
4/20/2003, 0133
---
Any thoughts on that?
---
Sunday 4/20/2003, 0001
---
The Orange Blossom Special...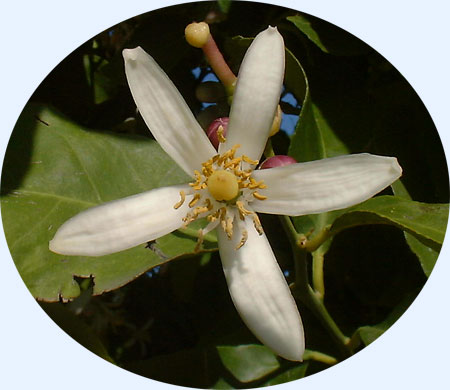 The breezes died tonight, allowing the scent of the citrus orchards to drift in, like an invisible fog, to saturate the night air...
4/19/2003, 2213
---
Repetition...
For Lynn Rockwell's Saturday Snapshots...
4/19/2003, 1428
---
Any thoughts on that?
---
Saturday 4/19/2003, 1400
---