Feeling abstracted on a Friday night...
5/2/2003, 2346
---
Any thoughts on that?
---
Friday 5/2/2003, 2330
---
Ya' know...
I get confused enough as it is...
5/1/2003, 2320
---
Onesome: See- What do you see when you look out your kitchen window? Just curious...

Twosome: Spot- Okay, pet names... Come on; not everyone has a "Sparky" or a"Fluffy". If you have a pet or two, what did you name them? Hmmm... No pets? How about a 'pet name' for someone close to you? Hmmm... Okay. Let's see... RunTunTun is the oldest cat and so named because he was the runt of the litter and Shelley was watching a lot of RinTinTin on the tube when she was pregnant with Daniel when The Runt was born (blame me<g>). Mischief is the other girl in the household and came about when she as a kitten and thought she ran the place (Miz Chief). Soda is the youngest and wandered out from a demolition project next to the convenience store where Shelley stopped to get a soda while pregnant with Brad. You see the trend here, right?
Threesome: Run- Hey, what's your favorite 'run over to' place? You know, the "Honey,I'll be back in a bit, I need to run over to..." That place! Gotta' be one of the local markets. ...and maybe only just long enough to refill the water jugs, but it really doesn't take much for me to make one of those runs.
How about you? Let us know, over on The Back Porch...
5/1/2003, 0021
---
Any thoughts on that?
---
Thursday 5/1/2003, 0008
---
What a difference a day makes...
Late evening yesterday:
...and not quite as late this evening:
4/30/2003, 2359
---
Any thoughts on that?
---
Wednesday 4/30/2003, 2330
---
Lighting...
A simple "Watercolor and Tissue" from the hands of a child, just hanging on a wall and not really even noticed anymore...
...until Spring is well advanced and the sun's track is enough to the north to shine through the window above the entry. ...and turn a beveled edge of glass in a china cabinet's door into a prism radiating the same spectrum as the original artist.
4/29/2003, 2329
---
Any thoughts on that?
---
Tuesday 4/29/2003, 2300
---
Well, now...
Perhaps you remember the little plant growing from the rock on the New Year's Splash page? Yep, the one we revisited later that month ( Sue was worried about how things were going). It turns out it's a snapdragon: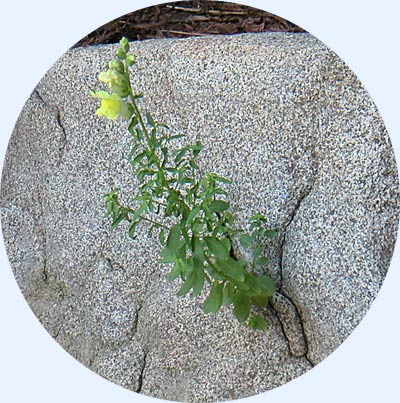 ...and still going strong!
4/28/2003, 2225
---
Any thoughts on that?
---
Monday 4/28/2003, 2145
---
Uh-oh...
I may have to find a camera and even set up a photoblog...
...but he does seem to have some ability.
4/27/2003, 1628
---
Any thoughts on that?
---
Sunday 4/27/2003, 1600
---
Toys...
For Lynn Rockwell's Saturday Snapshots...
Yes, there is a story... This is the first train set I ever owned. It showed up under the tree one Christmas in the late fifties. I played with it for years; and then, with college and jobs and life, the pieces migrated into my father's massive O-27 layout in his garage...
Several years ago, the set reappeared once again at Christmas time, nestled in a hand-crafted wooden box...
Thanks,
Dad
...
4/26/2003, 1553
---
I couldn't resist...
4/26/2003, 0132
---
Full circle...
About a year ago, I did a short piece about seeing the beauty in things. ...and I recall a rather extensive web search looking for a decent shot of Rodin's Fallen Caryatid With Stone to link while I quoted some words from Robert A. Heinlein that addressed the issue better than I could. I finally found a beautiful page and linked it in my piece.
Earlier this week, that author found my words and asked if he could use them on his page. That seemed like a fair trade...
...and I think he did a very nice job.
...and now I'm curious as to what set me on that path that day in May. Does anyone recall?
---
(An administrative note: Bill's site does not link back here as a matter of policy; that is absolutely fine with me.)
4/26/2003, 0043
---
Any thoughts on that?
---
Saturday 4/26/2003, 0008
---