Shadows...
10/10/2003, 2356
---
Any thoughts on that?
---
Friday 10/10/2003, 2327
---
Counterpoint...
Fading at sunrise...
...versus growing at sunset from the other night.
10/09/2003, 2101
---
Onesome: Saturday- Is Saturday a day to relax, maybe do something fun, or is it a day spent on the run, chauffeuring kids to activities, yourself to the gym and getting the errands done before it's back to work on Monday? Do you need a day off to rest from your day off? Tell us about your day! Oh. Saturdays? Yeah, instead of maybe running kids to school if Shelley is working and coordinating their pickup, we're usually running kids to soccer games and coordinating their pickup. ...and doing homework during the day instead of the evenings. Sheesh. Did summer just end?
Twosome: Morning- What's different about your weekend morning routine than the other days of the week? In theory, I can sleep in; in practice, that hasn't worked. Hmmm.. Yep, one thing: I use different flavoring in my lattes; lately the Tiramisu syrup Lolo sent me makes for a very mellow wakeup routine...
Threesome: Cartoons- Do you have a favourite one? Do you still watch it and/ or other cartoons? I always loved Marvin the Martian, mainly because that bit was just so far off the mainstream when he first appeared. Now he's back, and last weekend he and Duck Dogers even teamed up together against the pirates! Heh....
How about you? What's your morning like? Let us know, over on The Back Porch...
10/09/2003, 2004
---
Any thoughts on that?
---
Thursday 10/09/2003, 1944
---
Sunset...
10/08/2003, 2201
---
Any thoughts on that?
---
Wednesday 10/08/2003, 2159
---
Cameras, part II...
...and this morning's shots show why I use two:
The 'depth of field' shot above from the Minolta is one the Fuji cannot do. ...and the shot below from the Fuji is one the Minolta simply cannot 'see'.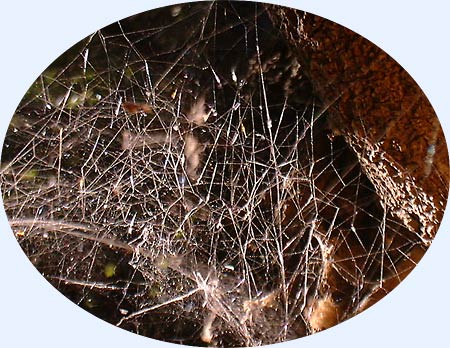 10/07/2003, 2156
---
Cameras...
Click the picture for an information page
10/07/2003, 1858
---
Any thoughts on that?
---
Tuesday 10/07/2003, 1803
---
End results...
What we were shooting yesterday:
That should just about cover the arachnophobes and the acrachnophilles...
10/06/2003, 0030
---
Any thoughts on that?
---
Monday 10/06/2003, 0020
---
Indulge me, please...
I mentioned in Daynotes that Brad and I'd been out and about...
Pretty much says it all...
10/05/2003, 2359
---
Any thoughts on that?
---
Sunday 10/05/2003, 2246
---
Sandcastles and snakes...
Life at the Fair, 2003...
That section of the "work in progress" sandcastle is about six feet tall. ...and that's still shorter than this guy:
10/04/2003, 2155
---
Any thoughts on that?
---
Saturday 10/04/2003, 2151
---