Evening in the valley...
01/23/2004, 2359
---
Morning in the valley...
Thirty minutes later, visibility was like this:
01/23/2004, 0021
---
Any thoughts on that?
---
Friday 01/23/2004, 0005
---
Well folks, the Back Porch is moving to another home and things are all torn up, we're not leaving people "Out of the Loop"!
Onesome: Out-- Are you getting out and about lately? ...or is school/the weather/work/illness keeping you cooped up inside? Oh, man, I'm just hammered at work lately, but every time I get home before sundown I'm trying to get out to blade. ...and if not, I'm trying to remember to take a walk after dinner.
Twosome: of the-- Blue? Does the Winter season 'get to you'? ...or do you handle it as well as you do Summer? Sometimes the fog will get to me, especially if it settles in for a couple of weeks and all we see is grey. This year we've been lucky so far...
Threesome: Loop-- Hey, Spring is coming (and Winter is still here for some); do you have a loop you drive or walk to check out the scenery? What do you see when you're out and about? Yeah, you could say I get out <g>... Mostly I just get out around the neighborhood, but sometimes I'll just stop somewhere and spend some time looking at what I can find to see...
How about you? Inside or out? Drop by and let us know, over on The Back Porch...
01/22/2004, 2142
---
Oh, my!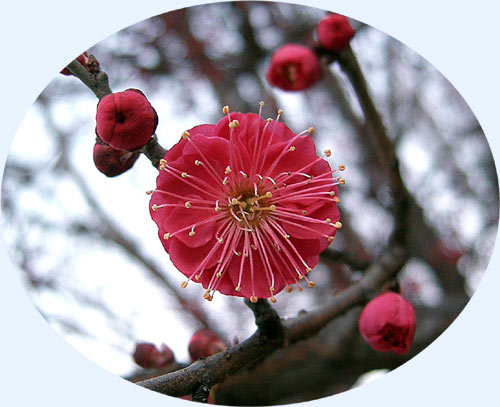 01/22/2004, 0122
---
Any thoughts on that?
---
Thursday 01/22/2004, 0030
---
New glasses...
01/21/2004, 2318
---
Any thoughts on that?
---
Wednesday 01/21/2004, 2310
---
Hanging out...
01/20/2004, 0001
---
Any thoughts on that?
---
Tuesday 01/20/2004, 0001
---
Looking inside...
01/19/2004, 1426
---
Any thoughts on that?
---
Monday 01/19/2004, 1410
---
Night vision...
01/18/2004, 2337
---
On a frosty morn...
I wandered out at sunrise a few weeks ago and captured some of what things look like to me on a frosty morning...
Click the picture for the gallery
01/18/2004, 0305
---
Any thoughts on that?
---
Sunday 01/18/2004, 0246
---
Dipped in sugar?
I think Lee is correct; that is what it looks like...
01/17/2004, 2326
---
Any thoughts on that?
---
Saturday 01/17/2004, 2311
---