Ornamental...
12/23/2005, 1723
---
Ookie Jar...
12/23/2005, 0005
---
Any thoughts on that?
---
Friday 12/23/2005, 0002
---
Winter wonderland too...
12/22/2005, 2123
---
Onesome: Daily-- Do you have a daily routine you've fallen into this Christmas? ...baking in the morning, shopping in the afternoon? ...checking your list (twice) and then trying to find that certain something at lunch? ...checking the shippers to make sure everything is on the way? ...making sure you don't miss a day with your Advent calendar? Sheesh, trying to remember what it is I've forgotten! This year has just seemed hectic!
Twosome: Ups and-- USPS and DHL and FedEx? How's the inbound traffic this year? Are you receiving more from on line stores than you have in the past? (Oh, and a word to the gang on this: Amazon's "SuperSaver Shipping" is using a sequence of Airborne to the USPS to the recipient, targeting deliveries for Friday the twenty-third. Heads up tomorrow for inbound reindeer!) A little bit. I haven't noticed a huge trend here on incoming traffic. Well, except for the stuff I have inbound for others...
Threesome: Downs-- ..de' hatch? What are your thoughts on eggnog now that it's that time of year? ...and sure, unleaded or with the traditional added 'kick'. It seems no one is fence-sitting on this holiday drink; people either seem to like it or loath it. How about you? I've never really developed a taste for the stuff, with or without the booze...
How about you? Let us know, over on The Back Porch...
12/22/2005, 2109
---
Winter wonderland...
12/22/2005, 2043
---
A true story of yesteryear... (a Christmas tradition here)
'Twas Three Nights Before Christmas

(with apologies to Clement Clarke Moore)
'Twas three nights before Christmas, when all through the house
Not a creature was stirring, well, maybe Mom's mouse;
The stockings were hung by the chimney with care,
In hopes that St. Nicholas soon would be there;
The children were nestled all snug in their beds,
While visions of Lego games danced in their heads;
And mamma at her keyboard, and I at my desk,
Had just settled down for a long evening's post,
When out from the hard drive there arose such a clatter,
I sprang to the table to see what was the matter.
Away to the boxen I flew like a flash,
Fired up the monitor to see what had crashed.
The error on the screen of the new-purchased box,
Gave the story of dread to this near-Christmas pox,
There, what to my wondering eyes should appear,
But a dialog saying, "Install drivers here!",
With a little old driver, so lively and quick,
I knew in a moment, I needed St. NIC.
More rapid than eagles I searched through the hive,
For the box with the cable that stated "CAT Five";
"Twist, white-orange! twist, white-brown! now, brown and white-green!
twist, blue! twist white-blue! and, orange and green!
To the end of the cable! to the end by the wall!
Now crimp away! crimp away! crimp away all!"
As techies with children know only too well,
When you meet with an obstacle, you'd better be swell,
So into the hub, the cable end flew,
And the Leds lit up there, and on the NIC too.
And then, in a twinkling, I heard that nice sound,
That new Me start up, of One Adam Twelve.
As I drew in my hand, and was turning around,
Out from the hallway, Mom came with a bound.
She was dressed all in flannel, from her head to her foot,
Awakened by sounds she knew not from what;
(A near miss we had as she came down the hall,
I guess I should place cable, more close to the wall).
But her eyes, how they twinkled! her smile was quite merry!
For she saw that the new box would work out quite cherry.
Her fine little mouth was drawn up like a bow,
And games she passed over, just for me to load;
The start was with Riven, followed by Myst,
And now Typing Tutor, that couldn't be missed<g>;
She'd found Lego Knights, and sounds from the telly,
That start-up, that's special, with One Adam Twelveee.
WordPerfect was Suite; and the train game was cool,
But I worried and wondered, if the hard drive was full;
A quick check of space, and a defrag instead,
Soon gave me to know I had nothing to dread;
I spoke not a word, but went straight to my work,
And filled all the hard drive with games and a perk,
And laying my finger aside of my nose,
And giving a nod, off to bed I did go;
I crawled into bed, to my wife gave a hug,
And pulled up those covers all snug as a bug.
But I felt myself <sigh>, ere I'm out like a light,
"HAPPY CHRISTMAS TO ALL, AND TO ALL A GOOD-NIGHT!"
Merry Christmas!
Dan Bowman, 12/22/2001
12/22/2005, 0010
---
Any thoughts on that?
---
Thursday 12/22/2005, 0005
---
A Beary Merry Christmas...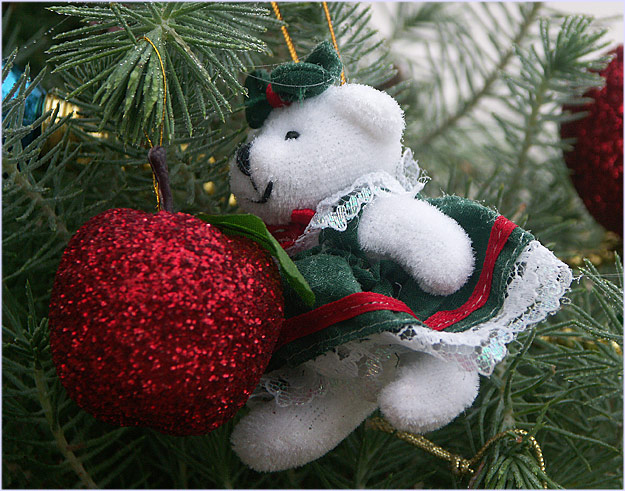 12/21/2005, 0003
---
Any thoughts on that?
---
Wednesday 12/21/2005, 0001
---
Signs of the season...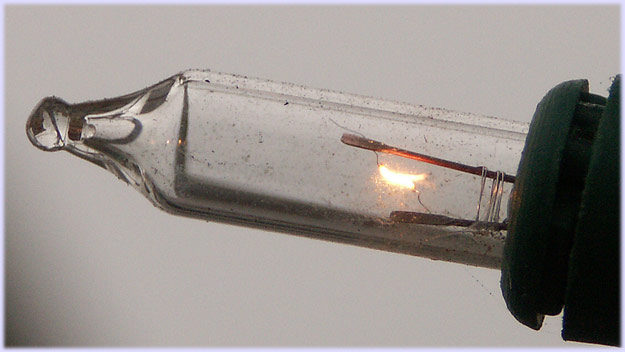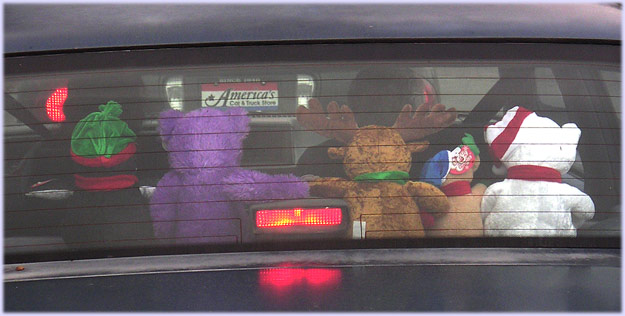 12/20/2005, 0004
---
Any thoughts on that?
---
Tuesday 12/20/2005, 0002
---
Monday's rose...
12/19/2005, 0002
---
Any thoughts on that?
---
Monday 12/19/2005, 0001
---
Through the window, Part II...
12/18/2005, 2040
---
Through the window, Part I...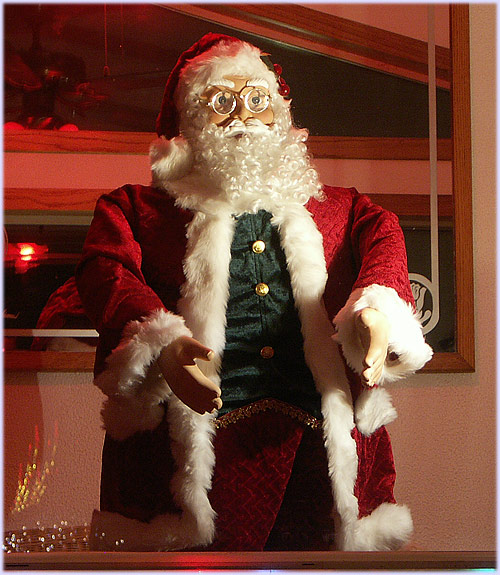 12/18/2005, 1850
---
Any thoughts on that?
---
Sunday 12/18/2005, 1845
---
Christmas party...
12/17/2005, 2359
---
Any thoughts on that?
---
Saturday 12/17/2005, 2350
---