Cameras in the land of the TimeSink...
Updated March 16, 2004: Last December I ended up with a Casio QV-R40 as a kind of left-handed Christmas present. It was the result of a gift certificate with a limited selection of products; the Casio was the only camera available and Shelley suggested not buying clothes or something sensible... Okay!
The Casio is slightly smaller than the Fujifilm DX-10 shown below and has replaced it for macro shots (the Fuji has moved on to my oldest as a 'learning' camera). The Casio is a four megapixel camera with a 3x optical zoom. ...and while I wouldn't have picked it out of a lineup, I've grown to like it. It takes the front line day to day duties, and the Minolta Dimage X (also shown below) now handles the 'spycam' side of the show (there's just no beating that one for unobtrusiveness).
---
The original post:
From time to time someone asks what cameras I use to get the pics you see on the blog and elsewhere on the domains. Okay...
The main camera is a Minolta Dimage X: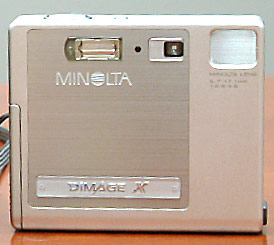 This is a small form factor, two megapixel camera that comes in handy for the type of "off the cuff" photography I do much of the time. There's a nice overview of the camera
here
. The prime advantage for me is its small size and "instant on". All of the pictures in
Desktops
were taken with this camera (as of September, 2003).
The backup camera is a Fujifilm DX-10:
Until I received the Minolta for my birthday in 2002, this sub-megapixel Fujifilm DX-10 was my day to day camera. While the Minolta has zoom and double the resoluton, the DX-10 still travels with me for the sheer clarity of the shots it can turn out in macro mode. A review from Imaging Resource is available
here
. A great many of the closeups you see on the blog are shot with this camera.
There you go!