Most Recent (Last update: 2346 10/25/2003)
Monday
I'll be in and out here a little less this week; Shelley has lined up a sub-job for the entire week and the evenings will be a bit busy as I'll be playing 'soccer dad' a few nights while she tries to relax from the day. ...and with the homework levels lately, those evenings may be a bit full.
Both of the guys are doing okay in school, so that's cool. ...and both are enjoying soccer this fall. I'm looking forward to the winter though; I think we could use a bit of a break and just some time to veg out and read for a bit. ...and for me to work on computers.
Happy Monday!
---
Tuesday
I bladed this evening, even with the air quality like this: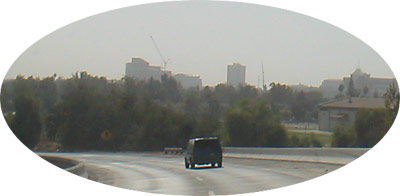 Yeah, those buildings are maybe a mile away, max. ...and you can see the air between the trees in the fore and middle ground; that's a high school football field in between.
...and yes, it's still hot: 93 today once again. 'They' are calling for a cool down, but no one is even betting on rain. ...and yes, to answer the question: California is on the same planet as you gals and guys back East.
It was a little cooler feeling as I bladed tonight; there wasn't that 'Fall Chill' in the air, more like a hint of 'non-heat'. ...but down in the hollow under the 70kv lines it seemed like maybe the cooler air was pooling. Then again, over where the birds flew with me that evening, there wasn't even a hint of cool off the field.
...but I did manage to get out!
---
Wednesday
Looking around the place tonight reminds me to plan some time for the guys and me this weekend to at least start winterizing things around here...
There really doesn't seem to be much of a rush; I mean, the weather people aren't even trying to call things this year. Oh, maybe, "It will be cooler than Summer", but that's about it; the absence of either an El Niño or a La Niña has hosed any of the easy predictions about rain and such. Now they're going back to the really old charts. ...and the chicken bones.
...but maybe we should deflate the pool toys?
---
Thursday
La-la-la-la, life goes on... Homework was light this evening so Daniel and I tried to get at little ahead for the weekend. After a very full week (since last Friday evening) if this bunch just wants to sit around and veg, I'm all for it. I mean, it's not like we're going to want to be outside...
Yeah, it cooled down to 86 today, but they're talking 97 by Sunday. Oh, it's past crazy out here; we're players in the Theatre of the Absurd <g>!
Onward, ever onward...
---
Friday
Tonight ended the 168 hours of Full Tilt Boogie around this place. We started last Friday evening with a school carnival, moved on to a two day soccer tournament and then into a full week on the job for Shelley. Mix in homework and soccer practice and you end up with a couple of tired parents and two kids looking for a break...
The good news is that Saturday's games are late, at 1100; the bad news is they are both at the same time, but at different schools. The sad news is that we have homework a bit above and beyond the norm...
Then again: "...could be worse!"
---
Saturday
Since I know one or two of you still check in for the tech stuff, here's a red flag alert:
Error scenario: Installing 9.2 and being told unable to install the base system and subsequent reboot reveals that CD-ROM drive is physically dead.
Why: According to LG Electronics, their ODD (Optical Disc Drive) products do not support Linux nor do they test with Linux. Unfortunately, many Dell computers (possibly others) come with these CD-ROM drives.
Solution: Currently there is no solution or work-around for this issue; it is still under investigation. Damage occurs even when doing a network install. At this point, please do not install Mandrake Linux 9.2 on any computer containing a LG-based CD-ROM drive or it will damage your CD-ROM drive! We are actively looking for a solution to this problem.
Ya' think? That sounds like something I'd be looking up on Snopes, but that link is to the Mandrake site.
Sheesh...
---
Sunday
The coaches had a chance to give another lesson yesterday at soccer: with three members absent, the team had no subs to field. All they could do was work the postives. Coach Steve and Coach Justin (and the parents) kept the kids going in the first half by giving props for every good thing that happened. ...and they needed to: we were playing a team with some great passing ability and whose specialty was kicks from fifteen yards out! There was literally no way to defend them all...
...but at the half, the coaches reset the team, swapping the goalie to add him into the offensive mix to try to force the play to the other end of the field. That worked well, very well: the shutout ended and we scored several goals. It was a case of too little too late, but it let the team know they could play with a different lineup. ...and they also found they had decent reserve goalie in Brad!
Have a good Sunday!
---

Click image for larger version
"Any sufficiently advanced technology is
indistinguishable from magic."
Arthur C. Clarke, "Technology and the Future"
---
Thanks for visiting!

All content Copyright 1999->2003 Daniel C. Bowman. All rights reserved.