Why we'll never understand each other...
Been together long enough? Here are two cartoons to test whether or not that might be the case...
The Optimist pointed them out to me...
1/31/2002 12:55:54 AM
---
Any thoughts on that?
---
Thursday
1/31/2002 12:48:37 AM
---
Young Angel...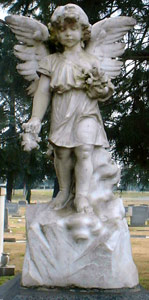 1/30/2002 7:22:39 PM
---
Any thoughts on that?
---
Wednesday
1/30/2002 7:08:36 PM
---
The things you can learn on the web...
"Quantum materiae materietur marmota monax si marmota monax materiam possit materiari?"
---
Where to find pizza in St. Louis. Bonus: apostrophically challenged businesses...
---
Hey, you get points for being a bitch!
---
I know; adjust the dosage...
1/28/02 2:46:31 PM
---
The Weather Report...
The status so far: I woke up to fog... After yesterday's rain that wasn't unexpected, although I thought it might freeze again since it was so clear and cold at midnight. When I came out of the shower, a light rain was starting to fall. Okay, that may mean no blading today. By the time I gathered by stuff and headed to the car, the rain was really coming down. Still okay...
On the way to the car, I realized the 'rain' was sticking to surfaces... What??? No, it wasn't 'bouncing', so it wasn't really hail. A quick look up confirmed it was floating down. Oh, my... "Hey, kids! It's snowing!"
A half mile later, at the freeway on-ramp, it was a mix of hail and snow. ...on a Monday commute? ...in Central Cal? Sheesh.
I shouldn't have been concerned: one mile later I was in clear skies. ...but only for another mile, as I hit fog. ...the fog that was banked down over the city for the rest of the trip into the downtown.
Fresno/Clovis? ...or Kansas?
One old schoolmarm goes by on a bicycle and I'm outa' here!
1/28/02 8:15:56 AM
---
Any thoughts on that?
---
Monday
1/28/02 7:57:37 AM
---
Sleep...
Yep, that's something lacking around here. ...at least on my part!
Last night I'd packed it in a little late having had a little problem with a Windows box (yeah, snicker away; I do know better), but I made it to bed and things seemed quiet enough. ...until Shelley sat up in bed and shouted down the hall, "Dan, come to bed; it's one in the morning and I'm cold!" I turned over and said, "Honey, you can go back to sleep; I'm right here." Since she never really was awake, that was easy enough for her. Me, on the other hand...
...and as I'm trying to fall back asleep, one of the boys gets up and heads to the bathroom. Okay, no problem. ...until one of the cats, hearing Shelley apparently awake and one of the kids moving around, decided it was time for breakfast and started yowling about it. ...which woke up the cat who sleeps in the laundry room. ...the one who sleeps there because he makes too much noise otherwise.
Okay, try again. ...as the wind machines kick on in the citrus orchards just north of us. It may be sunny here, but it's been flat cold at night lately; 28F was the morning temperature and the farmers run these enormous propellers to mix warmer air in with their crops to keep the oranges from damage. Well, we'd had Bradley up in the middle of the night already this week when they'd started up; he wasn't familiar with the sound and thought some monster machine was headed our way. So... The question was: just who was it who'd gone to the bathroom? ...and: had they fallen back asleep? Inquiring (and sleepy) minds (at least one) wanted to know...
Apparently, I didn't care enough and fell asleep. ...until the early morning wakeup routine started an hour or two later.
Man, it was a long day at work...
1/23/2002 9:42:28 PM
---
Any thoughts on that?
---
Wednesday
1/23/2002 7:58:32 PM
---
Oh, ...and Mr. Hightower???
Scaring upstanding citizens out of their minds?
Then again, he wasn't likely going to show up at one of your gigs...
...and it does sound like something I'd do <g>.
1/23/2002 12:48:45 AM
---
Catching up...
Yeah, I took a few days off from computering in general...
...but life continued apace <g>; I have a stack of notes and several pics that will make a post or two over the next few days. But, for now, just a note or two.
---
The other day, JHR from Daynotes asked why I added a blog to my domain. I started to write him back and ended up with a bit more than a note. So I expanded it somewhat and asked Ciara to review it for me. She was kind enough to do so and premiered the piece on her site last week with a much better title than mine. If you're new to weblogging, would like to start, or just would like a reference or two, feel free to check it out.
1/23/2002 12:41:48 AM
---
Any thoughts on that?
---
Tuesday
1/22/2002 11:31:31 PM
---