Time for a change...
Heh. Yeah. This design is courtesy of Carey Henderson of Speakeasy fame...
He put this together a little while back. ...but I'd made a deal with myself that I wouldn't play with my site design until I completed the major work on a site redesign I'd promised someone else even longer ago.
Well, that site is redone and is off to the owner for review. ...and while there are still Things To Do (the exact carpet color and exactly where the China cabinet will go are up to the site owner), I feel good enough about the concept to be able to put this one in place here while I await feedback.
Enjoy...
7/5/2002 11:58:42 PM
---
Any thoughts on that?
---
Friday 7/5/2002 11:54:45 PM
---
The Thursday Threesome...
Onesome. The Birds. So, when did you realize there really was a difference between boys and girls? Some time in Junior High... There was something going on, but I just couldn't quite figure it out. ...and yes, eventually I did <g>!
Twosome. The Bees. So when did you hear about the "bodily function" things that were gonna' happen to you? And how long was it before you learned that the opposite sex had changes, too? Well, there was that film. ...the one I either missed or didn't understand. Nothing like trying to relate to an abstraction! I did have two younger sisters, so the other side of things was well represented in our household...
Threesome. The Flowers and the Trees. Did you know where babies came from? What stories did you hear (and believe) - and how old were you when you really learned the truth? Oh, my, my, my... I recall 'the stork' getting great press in the fifties. ...and something about mommy's belly (but the rest was magic of some kind). Hmmmm... The truth? Sometime in my early teens. I just didn't believe it. Couldn't be...
How about you? Do you remember? Share your thoughts, over on The Back Porch...
7/4/2002 1:07:42 AM
---
Any thoughts on that?
---
Thursday 7/4/2002 12:54:46 AM
---
Maybe you had to be there...
...but Janeen and I got a kick out of one of our favorite sales reps when she dropped by today. We were chatting about plans for the Fourth and she said she had somehow been 'volunteered' into helping host the family get-together at her new husband's parent's...
...and with a plaintive little sigh, she said, "All I wanted to do was show up with my seven bean dip and sit in the corner with my soda!"
All we could say was, "Welcome to the family!"
7/3/2002 9:31:23 PM
---
Any thoughts on that?
---
Wednesday 7/3/2002 9:21:39 PM
---
Monday morning tidbits...
Yeah, I finally took mercy on my dial-up brethren and archived <g>... Sometimes I just flat lose track of things. Something about time management...
---
I love marketing people. I really do. It just fascinates me how they relate to their target audience. Like the ad I just saw for an exercise/yoga ball called the "Tranquil Escapes Toning Ball" ...
---
...and then there's the weather. I mentioned over on the Daynotes site about how the temperature had climbed when I was out blading... So, Svenson weighed in with:
<quote> ...It was already in the 80's when I went out to blade and 90 when I got back... </quote>
Wow, that is what I call a work-out. raising the ambient temp by 10 degrees.
Yeah, I may have overdone it a bit <g>...
...but I'll have to take it easier this week: the daybreak temp this morning was 72F. ...and the "Farmer's Rule of Thumb" around here is to add thirty degrees to that to get the mid-afternoon temperature.
Oh, joy...
7/1/02 9:18:01 AM
---
Any thoughts on that?
---
Monday 7/1/02 9:15:57 AM
---
Sunday evening prayer...
Nah, not a call to it, although it couldn't hurt <g>, but a link for you if you are interested in the concept. This week has been an interesting one in that several people have brought up the concept of prayer in our discussions...
...and I've answered as best I could and called on my buddy Dave to handle some of it. ...and here you will see why! Man, can that guy crank out a post.
...and yes, I'll have it up over at the Lion and the Sling in a bit.
6/30/2002 10:53:58 PM
---
The Great Cedar Chest War!
I gotta' tell you: they were only in the house about thirty minutes before sides were drawn up...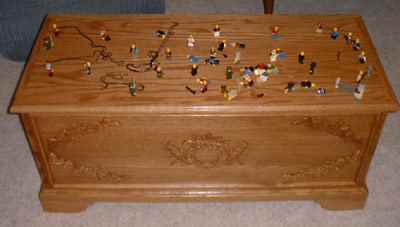 ...but I'm pretty sure the guys with the ray guns are winning!
6/30/2002 2:23:17 PM
---
Any thoughts on that?
---
Sunday 6/30/2002 2:10:48 PM
---
I want out, man!
6/29/2002 10:47:40 PM
---
Busy day here...
...but I wouldn't want a birthday to slip by<g>!
Happy Birthday, Sarah!
6/29/2002 2:08:24 PM
---
Any thoughts on that?
---
Saturday 6/29/2002 2:03:50 PM
---