Parenting 101...
"Brad, brush your teeth before we leave..."
"DaaaAAaaad, I already did!!!"
A shot in the dark you just learn to take: "You didn't have time to do it right; go back and do it again!"
"Ah, man..."
<long pause>
Hey, anyone seen my toothbrush?
Cue Dad pumping fist in the background <g>...
10/25/2002 11:15:01 PM
---
In short, there's simply not
A more congenial spot;
For happily-ever-aftering
Than here in Camelot...
Richard Harris
1930-2002
Thanks, Sarah.
Much to blog on, but that takes precedence. Gotta' go find a soundtrack...
10/25/2002 9:42:09 PM
---
Any thoughts on that?
---
Friday 10/25/2002 9:20:44 PM
---
The Thursday Threesome...
Bubble, bubble As in bubble bath. What's your favorite way to relax? Ah, head out and blade for a while. Yeah, it's a workout, but a relaxing one. Although: we're coming up on the season where the cat and I can fall asleep together in front of the fireplace...
Toil What's your least favorite chore, and why? Weeding! Man, all the bending over or getting up. ...and the pulling and stuff. Nope, that's why I'm glad the boys are getting old enough to help out around here!
and Trouble What do you get into trouble for around the house? Which list do you want? The legit one, the semi-legit one, or the "Where'd that come from?" one <g>?
How about you? Bubble up your troubles, over on The Back Porch...
10/24/2002 12:15:39 AM
---
Any thoughts on that?
---
Thursday 10/24/2002 12:14:22 AM
---
I may just go back to sleep...
Long day... Came home from work and fell asleep... Got up and asked the boys how dinner was (garlic salmon fettucini)...
Daniel, "I had macaroni and cheese instead."
Okay, he's sick...
Brad, "Uh, it was okay; some sort nasty noodles though..."
Hmmmm... Still deciding at this point.
---
...and then I walked by Shelley's TV in back. ...in time to catch an ad for Home Alone 4.
4? 4?? 4???
10/23/2002 8:47:58 PM
---
Any thoughts on that?
---
Wednesday 10/23/2002 8:31:57 PM
---
Department of Redundancy Department...
Direct from the sports pages of the local rag (picture caption):
"The St. Louis cornerback is out indefinitely after breaking his left leg and badly spraining his left ankle."
Ya' think?
10/22/2002 10:59:08 AM
---
Any thoughts on that?
---
Tuesday 10/22/2002 10:52:32 AM
---
Cha, cha, cha, changes...
The Surreally servers are migrating tonight...
Info on dotOrg and Surreally Support as things progress...
10/21/2002 11:41:17 PM
---
Signs of the season...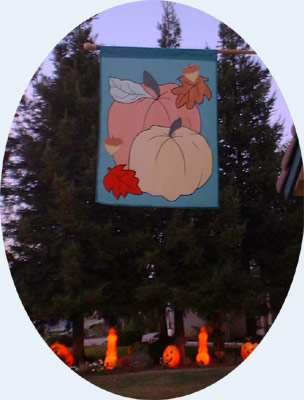 Shelley and her flags...
---
One thing I'll give my little sub-megapixel wonder: it gathers light well. That's a twilight shot...
10/21/2002 10:57:27 PM
---
"He's only five and he has his own site???"
That was Brad this evening as I finished my explanation of who Kurtwood is...
I'd been checking out his latest on the kitchen workstation and Brad keyed right in on the pics... So we went through them all and he decided they were way cool. So Brad let Kurtwood know <g>. ...and Mommy, being the gracious lady she is, replied, totally making Brad's night!
Oh, he wants "bolts" for his site. "Bolts?" "You know, Dad, those lightning things?"
<sigh>...
10/21/2002 10:39:30 PM
---
Must be kid's day...
It's also Ian's birthday...
"...is a very, very, very fine house."
10/21/2002 10:21:37 PM
---
Request for opinions!
Hey, gang, Shelley is looking for some feedback about carpet and wall colors for kid's rooms! Hmmm... As I recall, the crowd that drops by here usually has an opinion or two in those areas...
...and yep, I even opened up her comments section for the occasion (email works too).
Go, have some fun...
10/21/2002 9:33:38 PM
---
Any thoughts on that?
---
Monday 10/21/2002 9:08:55 PM
---
Ignore this post...
Unless you like Taiko <g>...
The Clovis Heiwa Taiko Drummers were at the school carnival Friday evening. ...and I wanted to give JHR an overview of the stage. ...especially after his emails about Taiko! The guy's knowledge base never ceases to amaze me...
10/20/2002 9:16:21 PM
---
Any thoughts on that?
---
Sunday 10/20/2002 9:05:11 PM
---
Free form...
This has been an interesting Autumn so far... The usual rains that show up at the most inopportune times to plague the raisin farmers trying to get their crop in and the cotton farmers trying to get their fields plowed under simply haven't materialized. The weather has stayed warm during the day and cool at night, with the ever-shortening daylight hours the only real indication the the winter months are approaching...
Most curious...
10/19/2002 11:13:56 PM
---
Any thoughts on that?
---
Saturday 10/19/2002 11:03:10 PM
---