I'm confused...
Granted, that's sometimes a normal state, but this one's just a philosophical thing. ...and it came on about half way to the store tonight. 'Cause I started wondering why I was driving...
Yeah, driving... Sure, I live in California and all that; but this evening I realized I was headed to a store a little over a mile away. ...in clear weather. ...and I was driving there! Now, how the heck did that happen? ...and when? I mean the mind set of having to drive everywhere...
I think what brought it home tonight was that I changed my mind about going to the Savemart a few miles down the road in favor of the new Walgreens that's much closer. ...and the fact that I was only going to pickup something for my persistent sinus problem. About the second corner, the computer in my head came up with an "under two miles" calculation and that's when it started: Just what has happened to me to not want to walk to the store to pick something up. I mean, come on, I go blading for miles several times a week and talking a walk is just no big thing. ...and we're not talking about having to carry home even a bag of groceries, just one little box. ...and there'd be pictures to take along the way and there's a Starbucks in the same center to relax in for a bit before starting home.
I know part of it is that I need to look up and see the shopping centers. When we moved in here ten or so years ago, there was nothing close. ...and I'd come from a neighborhood with a full strip mall literally around the corner. ...but the area has started to fill in and I think tonight is when it struck home the most.
...and I think the big culprit is time. As in "not enough". ...or at least often enough. I'm always in a rush to get to and fro (like to rush home to relax blading...) or to play Tag-Team Parenting with Shelley ("Okay, I got 'em; you're clear to go get your stuff done"). ...and I think that was the biggest thing that struck me: here I had a kick back Friday night, one with nothing on the agenda. ...and I used it to rush to the store so I could rush home. No, the family didn't need me... Gosh, no; they don't need me to watch something on the Disney channel. ...and heck; I'm allergic to TV anyway.
I recall touching on this one evening a year or two back when I walked over to the boys' school for a carnival. I took the main road east to where the access road takes off to the south; and when I got to the end of the farmhouse on the main road, I expected to be able to able to cut across the vacant lot on the corner. ...only, no trail! Yeah, "back when", any vacant lot near any elementary or junior high in this area had a trail pounded into the soil, cutting a perfect diagonal across the lot so we'd never have to walk around the sides of the thing...
So, times have changed. ...and kids don't cut paths through lots any longer, at least out here in the land of SUVs and MommyVans. ...but I think I need to stop and think a moment about how far I really need to go to pick up some minor item. ...at least in terms of time used or time well spent. ...and maybe instead of Brad or Daniel and I walking around the block as we do some evenings, perhaps we should take a longer moment of our lives and walk to the store for a half-gallon of milk.
After all, it didn't spoil on the way home "back when"...
12/27/2002 11:40:50 PM
---
Holidays around the web...
The latest from She's (hers?) meme factory:
Grab the graphic and go log in.
(click the graphic for the link)
12/27/2002 12:39:45 PM
---
Any thoughts on that?
---
Friday 12/27/02 12:00:00 PM
---
All is calm...
The Christmas Angel story...
Last week, we came home from Brad's school Christmas program to find one of Shelley's Precious Moments Nativity pieces on the floor. ...actually, all over the floor. The poor little angel with the flashlight who hangs out on top of the stable and shines his light on the manager had been reduced to shards. The primary suspect was Soda, since he's the only cat capable of reaching the mantle...
The boys wondered if I could put him back together, but I told them it was pretty much hopeless since he'd hit the tile in front of the fireplace and most of him was vacuum material... The unexpected came when Shelley said how much she'd miss what I'd thought was pretty much a novelty piece! She'd bought a starter set before we married and I'd filled in the set a little each year until it was pretty much maxed. What I didn't realize was how much she liked the little guy. Hmmmm...
No one local has carried this series for years, so I hit the net to see what I could see. ...and the next morning found me on the phone trying to find someone who actually had one in stock. ...and it wasn't looking good. Deb found one ebay, and that looked like it was going to be it: every place I called said they hadn't stocked the item in years. ...and the secondary market was also empty. Finally, a very nice lady in Iowa who said she'd shipped her last one out a day or two before thought maybe she had one at home and asked if I could call back in the morning. Sure!
It was a long day and night as I tried other places and wondered if I should just wait until after Christmas; but when I called back the next morning, she said she had found two! Wonderful. Simply wonderful. ...and she could ship "next day" (which was a Good Thing, because it was now Thursday!). I expected the piece in on Monday due to the delays of the season; but Friday morning, it showed up on my desk! Woooohooo!
I carefully removed him from his box and wrapped the box up for Shelley to open on Christmas morning. ...and late Christmas Eve, I used some "earthquake putty" to anchor him to his new home on top of the stable. ...and took that shot for you out there. ...and then I just waited to see if Shelley would notice him in the morning before she unwrapped the box.
Nope! She was quite surprised when she unwrapped the paper and saw that familar box she used to see every Christmas morning.
...and in the meantime, if another angel happens to lose his wings or needs a little light to guide his way, we are ready!
My thanks to Jean of Jean's collectables of Humboldt, Iowa for helping make this Christmas something special:
(Click for an overview shot)
12/26/2002 09:35:20 PM
---
Onesome: Merry: Merry times? Hey, did you have a Merry Christmas? How did things turn out for you and yours after all the work and time you put in preparing for the big day? We had one of the most relaxing Christmas in memory. Granted, that was due to an event canceling, which freed us up for dinner at home; but I'll still take it! ...and yes, the guys liked their presents, as did Mr. and Mrs. Claus.
Twosome: Christmas: Christmas presents? Did you get what you wanted from Santa? ...or are you headed back to the stores with the rejects on 'Reverse Shopping Day'? Overall, we scored in the 95th percentile <g>: The jury's still out on one item, and Shelley took Brad out today to exchange one gift for a game, but that seems to be about it.
Threesome: Everyone! Is everyone back to the normal routine today, like work and homemaking and such. ...or are you still entertaining? ...or maybe just taking a well deserved break from it all? I traditionally take the day after Christmas off. We travel on Christmas day, and sometimes the fog or rain will delay our return. ...and frankly? I need the break from the hustle and bustle of the run to the wire...
Hey, how did things go for you? Tell us about it, over on The Back Porch...
12/26/2002 07:55:20 PM
---
Doodeedoodeedoo...
Just teasing a friend...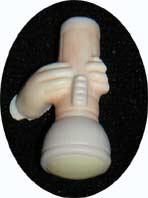 More after dinner...
12/26/2002 06:55:20 PM
---
12/26/2002 10:02:05 AM
---
Any thoughts on that?
---
Thursday 12/26/02 10:00:00 AM
---
A Christmas Angel...
Of course there's a story <g>. I'll tell it a little later...
Merry Christmas!!!
12/25/2002 00:05:00 AM
---
Any thoughts on that?
---
Wednesday 12/25/02 00:00:00 AM
---
Archived...
Yeah, I thought it was the least I could do. ...at least in connection with the recent demise of kd's dsl...
Hang in there gal...
12/24/2002 02:00:20 PM
---
Lawyer-boy...
Taking his case to the appeals court this morning (as soon as its coffee was ready, smart lawyer-boy), Daniel successfully argued that Christmas Eve is now more the concept of a day rather than the outmoded concept of The Night Before Christmas, thus vacating last year's lower court decision that Christmas Eve actually commenced upon the arrival home from work of said lower court. (During today's session, the lower court was unable to file a brief since he was in the shower at the time and therefore had no briefs available...)
Ahem. This decision allowed the plaintiff to move that the "One present on Christmas Eve" precedent from years past was now in effect and could be executed immediately.
As is often the case with new decisions, the plaintiffs soon ran across an unanticipated repercussion and had to immediately petition the lower court for implementation of the "Please Use Your Tools To Make This Work Act" (1991). The lower court complied most graciously...
Stand by for further rulings, as it is anticipated Lawyer-Boy will ask for clarification of day next year, likely arguing that a day actually commences at 0001 hours...
12/24/2002 02:00:20 PM
---
Any thoughts on that?
---
Tuesday 12/24/02 01:05:18 PM
---
Topping the charts...
...and the cookies this Christmas, welcome to SweetT's place:
Yep, I still have to paint the back room and that one cabinet door doesn't close quite right; but if you need a quick holiday recipe (being as it's getting a little late), SweetT already has several posted for you!
...and there's lots more to come!
12/23/2002 03:30:22 PM
---
She does it again...
Patti Ann tells us a Christmas story...
Yes, yes, of course tissues are required!
12/23/2002 03:20:30 PM
---
Any thoughts on that?
---
Monday 12/23/02 03:05:45 PM
---
'Twas Three Nights Before Christmas
'Twas three nights before Christmas, when all through the house
Not a creature was stirring, well, maybe Mom's mouse;
The stockings were hung by the chimney with care,
In hopes that St. Nicholas soon would be there;


The children were nestled all snug in their beds,
While visions of Lego games danced in their heads;
And mamma at her keyboard, and I at my desk,
Had just settled down for a long evenings post,


When out from the hard drive there arose such a clatter,
I sprang to the table to see what was the matter.
Away to the boxen I flew like a flash,
Fired up the monitor to see what had crashed.


The error on the screen of the new-purchased box,
Gave the story of dread to this near-Christmas pox,
There, what to my wondering eyes should appear,
But a dialog saying, "Install drivers here!",


With a little old driver, so lively and quick,
I knew in a moment, I needed St. NIC.
More rapid than eagles I searched through the hive,
For the box with the cable that stated "CAT Five";


"Twist, white-orange! twist, white-brown! now, brown and white-green!
twist, blue! twist white-blue! and, orange and green!
To the end of the cable! to the end by the wall!
Now crimp away! crimp away! crimp away all!"


As techies with children know only too well,
When you meet with an obstacle, you'd better be swell,
So into the hub, the cable end flew,
And the Leds lit up there, and on the NIC too.


And then, in a twinkling, I heard that nice sound,
That new Me start up, of One Adam Twelve.
As I drew in my hand, and was turning around,
Out from the hallway, Mom came with a bound.


She was dressed all in flannel, from her head to her foot,
Awakened by sounds she knew not from what;
(A near miss we had as she came down the hall,
I guess I should place cable, more close to the wall).


But her eyes, how they twinkled! her smile was quite merry!
For she saw that the new box would work out quite cherry.
Her fine little mouth was drawn up like a bow,
And games she passed over, just for me to load;


The start was with Riven, followed by Myst,
And now Typing Tutor, that couldn't be missed<g>;
She'd found Lego Knights, and sounds from the telly,
That start-up, that's special, with One Adam Twelveee.


WordPerfect was Suite; and the train game was cool,
But I worried and wondered, if the hard drive was full;
A quick check of space, and a defrag instead,
Soon gave me to know I had nothing to dread;


I spoke not a word, but went straight to my work,
And filled all the hard drive with games and a perk,
And laying my finger aside of my nose,
And giving a nod, off to bed I did go;


I crawled into bed, to my wife gave a hug,
And pulled up those covers all snug as a bug.
But I felt myself <sigh>, ere I'm out like a light,

"HAPPY CHRISTMAS TO ALL, AND TO ALL A GOOD-NIGHT!"
Merry Christmas!
Dan Bowman, 12/22/2001
12/22/2002 07:00:45 PM
---
Ya' know...
Yes, I admit to being as lame as a guy can get with presents for Shelley. Actually, "lame" is totally inadequate. Yeah, I do pull one off from time to time; but for the most part, I'm hosed before I start...
...but this year, after I'd begged a list from her, I thought I had a chance. You know, "a little of this, and a little of that", and I was on my way. Not to be...
Oh, I did okay and all. ...for the most part. ...but I was having just a bit of a time with one item: the list said, "Estee Lauder powder". ...and I am bright enough to know that stuff comes in various 'flavors' (White Linen comes to mind). ...but try as I might, I couldn't find a near-empty box anywhere. ...and the old "check the perfume" trick didn't help either.
So I gave in; and while we were on the phone a few minutes ago (yes, she is out shopping again in this insanity), I just asked her which variety she wanted. ...only to have her say, "Heck, I don't know which one it is! Just call Jean (my mother in law) and ask her which one she has at the coast condo."
I mean, I supposed to know that???
Ho-ho-ho...
12/22/2002 12:30:32 PM
---
Any thoughts on that?
---
Sunday 12/22/02 12:02:33 PM
---