Time's up...
01/10/2003 05:00:01 PM
---
Any thoughts on that?
---
Friday 01/10/03 05:00:00 PM
---
So I blew out of work...
...as close to on time as I could manage. There was a weak forecast about rain this evening and I wanted to get home to blade before it hit.
Uh-oh...
Yeah, the local forecasters were letting me know what was coming...
01/09/2003 11:59:00 PM
---
Onesome: Commercial- Are there any TV commercials that really grab you? I mean, to the point you want to show them to other people? Oh, heck, for the few hours I tolerate the tube each week (football, one show)? Okay, I admit it; I really enjoyed the commercial played over the holidays where office party is going on and you can see snow falling beyond the windows. ...and the exterior pan shot shows it's really shredded paper from the accountants on the top floor. ...and a tag line of, "For those who haven't been naughty." The sad thing: I can't recall whose commercial it was!
Twosome: Holiday- Valentine's Day is coming up, do you celebrate the holiday or do you prefer to just let it pass you by? Oh, for sure! Any excuse for chocolate! ...and yes, I even get some for Shelley.
Threesome: Madness- Even if you don't celebrate it, do you sucumb to the madness and buy up boxes of chocolates, just for you? Ummmm... There's usually a clearance sale at Walgreens on the Russell Stover products. ...but I wouldn't know anything more than that <g>!
What about you? Come play with us, over on The Back Porch...
01/09/2003 12:35:00 PM
---
Any thoughts on that?
---
Thursday 01/09/03 12:20:22 PM
---
The eyes have it...
Hey, ya' wanna' make a contribution to something? ...at no cost to you (other than some camera/computer time)?
There's a little lady down at The Edge of Texas who'll chip in to Lighthouse International for each set of eyes she receives.
Kinda' sounds win-win to me...
01/08/2003 10:15:01 PM
---
Any thoughts on that?
---
Wednesday 01/08/03 10:00:00 PM
---
This is sooo cool...
More playing here. ...filched from garret.
01/07/2003 11:30:45 PM
---
So, I'm thinkin'...
...maybe we should turn the heat up a little?
01/07/2003 09:45:32 PM
---
Convergence...
Charlie is one of Dave's buddies. I'm not sure how to describe his site other than a mix of tech and religion (there's your warning!); regardless, he does both very well. ...although he'll waltz you right out of your comfort zone on occasion <g>.
Anyway, the other day, Charlie had a post about truth seeking and how sometimes people have to hit bottom to see up. ...and I didn't think a whole lot about it at the time, since that wasn't the methodology used in my case. ...but this weekend, while having a longish exchange with another health care professional about what we've seen and done, the subject of faith came up, as it sometimes does with those who have seen a lot over time. ...and I asked if she'd read Wonder and she came back with, "Why???" (from the story) "I don't even have to ask that question." ...and that's when Charlie's mention of "The seed is called 'faith'... " came back to me.
Just some reading if you are so inclined ...
01/07/2003 00:25:22 AM
---
Any thoughts on that?
---
Tuesday 01/07/03 00:00:01 AM
---
Tryin' to slow the day down a little...
...and I ended up on a store run a little bit ago that did the trick. No, not the shopping part, the part where I was driving along the road enjoying the 'orange slice' moon just above the horizon. ...and the owl flew across the road about ten feet in front of me, headed home with dinner.
Yeah, not cool for his dinner, but way cool for me...
01/06/2003 10:00:01 PM
---
Any thoughts on that?
---
Monday 01/06/03 09:50:00 PM
---
The Islands...
Brad and I were on our way home from moving some things around at storage (for his new room <g>) and I mentioned stopping by a local cemetery to look for shots for the upcoming Places in Stone...
Yeah, another "flat" one. ...but I have some hope after finding this: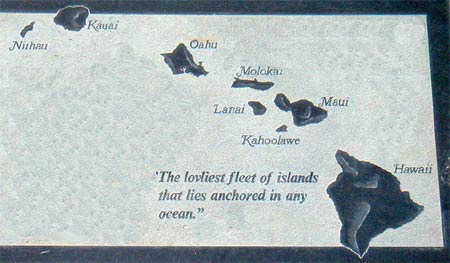 Someone has a history in Hawai'i...
01/04/2003 11:55:51 PM
---
Any thoughts on that?
---
Saturday 01/04/03 11:30:00 PM
---