The wind, the sea and the sky...
Goodnight...
7/5/2003, 0145
---
Tidbits...
...from the first day away.
Brad, on the way to the store, "Hey, Dad! Look at what Daniel can do with his face!"
"Ya' know, how about I take a pass on that just now..."
---
0200, the waves through the balcony door the only sounds other than the ice gently melting in the glass. ...and the youngest appears at the top of the stairs, secures the remote and a blanket from the couch, and wanders over to the recliner.
"Ummm, Brad? It's night, honey, not morning. Go back to bed, please..."
"Oh, okay..." ...and he wanders back downstairs.
As the sea and the ice return as the programmed selections of choice for the early morning soundtrack...
7/4/2003, 1050
---
Settling in...
It's early morning here. The fog that came in on the wind has settled down for the night as those winds have faded to memories left only in my mind. ...and a photo.
It's hard to see on the laptop, but I think you can get the feel for things...
7/4/2003, 0355
---
Any thoughts on that?
---
Friday 7/4/2003, 0350
---
Just a flower pic...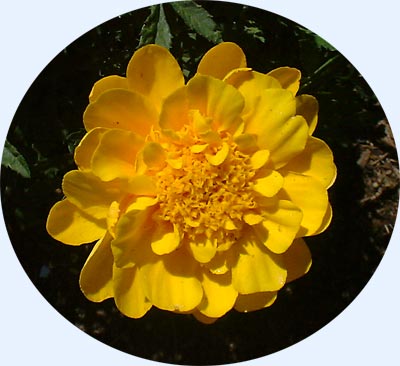 7/3/2003, 0103
---
Any thoughts on that?
---
Thursday 7/3/2003, 0100
---
Evening Fire...
7/2/2003, 0044
---
Any thoughts on that?
---
Wednesday 7/2/2003, 0040
---
Reflections...
Well, the Purple Moose nailed this one! Yep, the mid-day sun hitting the logo on the back of the courier's van and reflecting onto shadow of the building on the concrete.
...and a big "Thank you" to those who played! We'll do it again...
06/30/2003, 0001
---
Any thoughts on that?
---
Monday 6/30/2003, 0000
---
This...
(...and a day.)
Makes this!
06/29/2003, 0031
---
Any thoughts on that?
---
Sunday 6/29/2003, 0001
---
Guessing games...
Daniel and I were playing around with a couple of shots I took at the office on Friday. ...and he suggested another round of "What is it?"
Okay...
Does this help?

You have until Monday...
06/28/2003, 2359
---
Any thoughts on that?
---
Saturday 6/28/2003, 2330
---