Cameras in the Land of the TimeSink...
...and there's your update for Spring 2005!
---
Updated March 16, 2004: Last December I ended up with a Casio QV-R40 as a kind of left-handed Christmas present. It was the result of a gift certificate with a limited selection of products; the Casio was the only camera available and Shelley suggested not buying clothes or something sensible... Okay!
---
The original post:
From time to time someone asks what cameras I use to get the pics you see on the blog and elsewhere on the domains. Okay...
The main camera is a Minolta Dimage X: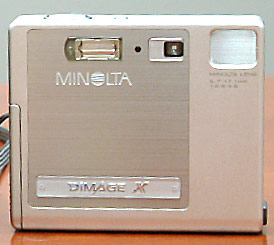 The backup camera is a Fujifilm DX-10:
There you go!