Most Recent (Last update: 2026 5/2/2004)
Monday
When I mentioned the weekend was somewhat busy, it was because the schedule went something like this: Friday's class started at 1900 and ran until 2200 (registration was at 1700; we got in around 1630 after spending some time at the Gilroy outlet centers). Saturday's classes started at 0830...
Yeah, that's not a lot of turn around time after four hours in the car... Saturday's formal classes ended at 1730 or so, but the homework kept Shelley and me going until 1930. ...and that was a bit late for dinner. Sleep couldn't come soon enough <g>.
Sunday started again at 0830 and continued until 1745 +/-; we took our leave at 1300 as we wanted to be home early enough for the boys to have a normal Sunday evening with us at home as they both have state mandated testing this morning. That was the weekend in a nutshell! I'll likely write a bit more about it as the week continues...
Have a good Monday!
---
Tuesday
Gee, I think Summer may be here... Yeah, 98 when I got home Monday evening to take Brad to baseball practice and they're making 100+ noises about today. It's probably time to adjust the drip system and clean the pool filter...
It's looking to be a busy week and weekend!
---
Wednesday
I think the baseball game last night was something we all needed to reset some switches... Both the boys have state school testing this week and Shelley and I are frankly burnt out a bit from the weekend conference. Some forced downtime came in handy...
Shelley and I got to just sit and "just talk", while Daniel got to hang with some of his schoolmates. ...and Brad learned to work on his lead-offs a little: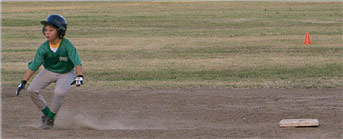 That was from second after he'd pounded a base hit off his best friend's pitch over the second baseman's head. ...and yes, they won again, but it was another one they had to earn. This time it was base running that did it for them. They weren't hitting all that well, but if they got a guy on base, they could usually move him around and get him across the plate (passed balls are a way of life in this league <g>).
Later!
---
Thursday
Well, we received some weather relief starting yesterday evening and continuing into today: the winds came up and the temps dropped about ten degrees or so. That has been real nice because the high nineties just doesn't cut it in April!
...then again, the winds made blading a bit of a challenge. When I came home from work they'd just started up, but they weren't anything to think about. ...but by the time I got changed and wandered out they'd kicked up enough to make it a workout on the way back, and I decided to take it easy on the front half. ...and by the time I'd headed past the Snail Lady's place about ten minutes later I knew I was in for a workout when I got to the next turn and started the uphill leg. Oh, yeah, by the time I got back they were well over 25mph...
...but it was cooler!
---
Friday
It's been a good week for the boys, what with the state testing going on in the school district curtailing homework for the most part, but tonight and tomorrow we get back into the grind. ...and the leadoff is one of those 'project' book reports that Shelley loves so much (not!). Mr. Brad will be working more than playing this weekend it appears...
...and Daniel will be helping me with some yard and pool projects. I think it's time to admit that summer is here. I mean, when the 'cool down' we've had for the last day or so puts you in the mid-eighties, I think I need to get a clue...
Ah, well...
---
Saturday
Let's see... So far the agenda includes one baseball game at a terribly early hour, the recovery of a kid from an overnighter, one book report (project style), a pool filter, barbecuing a meal for someone from church, fixing a drip line, hanging a picture, picking up more lump mesquite, printing a picture as a thank you for one of the gardens I frequent, working on the iMac, finishing a site redo, starting another, upgrading a WordPress install, requesting permission to reprint something and maybe even changing the paper in the partridge's cage...
Yeah, I man not be back this way today <g>...
---
Sunday
As far as getting everything done yesterday? No, not exactly. ...but the pool is back in service for the season!
...catch you later!
---

Click image for larger version
"Any sufficiently advanced technology is
indistinguishable from magic."
Arthur C. Clarke, "Technology and the Future"
---
Thanks for visiting!

All content Copyright 1999->2004 Daniel C. Bowman. Most rights reserved.