The breeze really wanted to be cool tonight...
I mean, it was really trying, coming up with nice little changes of pace and trying so very, very hard to be a cooling evening breeze. ...but the poor thing just didn't quite make it.
When I came home, the wind had kicked up and I was hoping it would clear the air some as we entered the weekend. Yeah, that pic from a few days back pretty much tells the story: those hills are only a few miles off, but totally invisible right now...
...and it looks like they may stay hidden a while longer; by the time I headed out on a slow evening blade, the breeze had replaced the wind. ...and the air had only cleared a little.
Perhaps the breeze knew about things like leaves turning in Pennsylvania, or maybe it just wanted to be liked for a change (because lately, the breezes have done nothing to help; they've just moved the hot air around). Regardless, you could tell from how playful it was that it just wanted to be a pleasant little breeze for those of us out blading and running and walking as the day wound to a close...
Sadly, instead of the scent of freshly watered grass, all it could bring was the smell of water on hot asphalt. ...and instead of cooling, all it could do was move air as hot as a summer day about. After all, it was still in the mid-nineties as sundown approached...
Poor little breeze...
8/16/2002 11:23:19 PM
---
For Linda...
My attempt at a mixed drink: Lotsa' ice, mudslide and doubleshot.
Could get interesting...
8/16/2002 10:29:19 PM
---
Any thoughts on that?
---
Friday 8/16/2002 10:22:24 PM
---
The Thursday Threesome...
Onesome: Here-When you are in, where do you hang out? Not your favorite room necessarily, but where you always seem to end up. I always end up in the library. ...and that's somewhat sad as it is about to become Brad's room. I guess maybe the living room will be my new place...
Twosome: There--When you go out somewhere to relax, where do you head off to? No further than the back yard! I can hang by the pool or go over by the Japanese garden and chill out and think or not think either place.
Threesome: Everywhere--If you could chose, where would you like to be able to go for a week to relax? The coast. Oh yeah. ...even when it's storming. No distractions, just the family, the net, or some reading (last week's Back Porch topic!) to enjoy...
So, where do you go? Tell us all about it, over on The Back Porch...
8/15/2002 12:32:21 AM
---
Any thoughts on that?
---
Thursday 8/15/2002 12:30:54 AM
---
Air Quality...
They say it was bad today...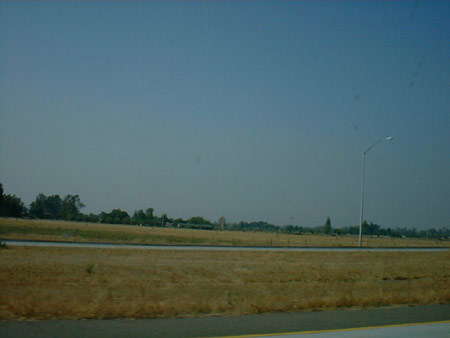 Yeah, I guess so...
I didn't blade until almost 2000...
8/14/2002 10:28:56 PM
---
Any thoughts on that?
---
Wednesday 8/14/2002 10:21:58 PM
---
Well, it's still summer here in the west...
...but the Autumn Issue of Small Spiral Notebook is out.
Some good stuff there if you have a free moment or two...
8/13/2002 10:52:35 PM
---
Any thoughts on that?
---
Tuesday 8/13/2002 9:47:10 PM
---
They bloometh...
For the incomparable Mizdos...
...and a promise of more to come:
8/11/2002 5:32:42 PM
---
Yes, I know I have issues...
...but still, five minutes each putting together a pair of Rubbermaid outdoor sheds (a part of The Great Cleanup Project, updated occasionally on the Daynotes pages) is a Good Thing, considering the 106F temps the last few days.
But taking thirty minutes in that same heat to cut up the cardboard boxes the sheds came in for the recycling pickup just doesn't seem right.
Yeah, a life; I'll find one soon <g>...
8/11/2002 4:37:29 PM
---
And another thing...
Exactly what is the purpose of supplying a set of valet keys with a van?
I mean, really...
8/11/2002 12:29:26 PM
---
Any thoughts on that?
---
Sunday 8/11/2002 12:26:24 PM
---
Finally...
I haven't been able to blade for the last several days; Soccer Mom's schedule, the late hours at work, and my general state of exhaustion in the later days of the week kept me away. So this morning, I knew I needed to get out and about, regardless of how beat up my body was <g>...
So I went for it, just going to get the kinks out and maybe run the short route. ...and then I noticed the wind was reversed, as it is in the mornings here. So I figured I'd really cut is short. Then again...
If the wind is reversed, all I have to do is make it to the Snail Lady's place and it will be at my back! Cool. ...maybe. So I went for it, nice and slow and steady, trying only for the Zen of the symmetrical body motions. It was a nice, easy ride. ...and I made it to the Snail Lady's house, a bit winded, but loosened up enough to maybe stretch out a bit on the next leg. ...and then I felt the wind at my back. ...and I knew I was lost once again.
Yeah, a nice easy stretch of road, my legs unknotted from the warmup, the wind at my back... Until there was no wind at my back. ...and as I picked up still more speed, wind in my face. ...and on into the turn into the uphill, still able to outpace the wind enough to generate my own headwind.
...and further on until the high-end alarm on my heart monitor and the built in ones in my legs said it was time to cut things back a notch and cruise for the next half mile or so. But I kicked it back up again on the return leg simply because I could. Man, it just felt so good to let things stretch out again...
<sigh>...
Back to work on the weekend projects...
8/10/2002 2:49:56 PM
---
Any thoughts on that?
---
Saturday 8/10/2002 11:32:42 AM
---