As I was sorting through boxes...
...for the yard sale, I ran across quite a few old pictures. ...and some of them were very interesting.
Like the ones from 1995 that seem to show Shelley teaching Mischief to do the 'obstructed airway' routine...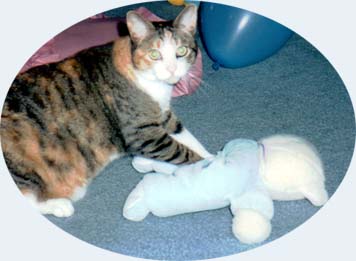 She must have been worried about Brad, 'cause you only use back-blows on infants less than one year old...
...and is that an AHA-approved manikin?
9/6/2002 10:20:34 PM
---
Any thoughts on that?
---
Friday 9/6/2002 10:02:18 PM
---
The Thursday Threesome...
Onesome. Autumn. As the season changes, what changes for you? Daily routine? Weekend Schedules? Your Mood? Ah, the fall months... Yep, my daily routine changes as Shelley starts substitute teaching one or two days a week; those days I get to sleep in until seven! ...but the other days I'm at work by seven so I can come home and blade before the sun goes down. ...and the weekend schedule now includes soccer on Saturday mornings. ...and my mood? Well, usually not too bad: since I carry around enough insulation to be a polar bear, the winter months aren't too bad for me, as long as the sun is out. ..but if that Tule fog rolls in and stays, I can make a good case for SAD!
Twosome. Soap. Come now, fess up. Are you a squeaky clean kind of person - or are there dark secrets hidden in your closets?? Ummm... Next question please. Let's just put it politely and say there is some past history. ...and you'll never have to worry about a 100 Things from me!
Threesome. Sale. Have you ever bought something absolutely ridiculous or unnecessary, simply because it was on sale and "such a good deal"? Is it tucked away in the attic or a closet - or did you find it really useful? All the time. At least I used to! If you've been following the insanity over on my Daynotes pages, you already know that the payback on that habit is a real bear. But I did really use some of it! Honest!
How about you? Let us know what you're selling this week, over on The Back Porch...
...and hey, swing on by Sarah's place and check out the sale. I tell you, with all the dust and dirt from the yard sale prep, I'm lovin' my Citrus Scrubbies!
9/5/2002 12:29:11 AM
---
Any thoughts on that?
---
Thursday 9/5/2002 12:25:57 AM
---
Season's Greetings...
104 yesterday; 83 tomorrow... Wanna' bet we get some wild weather today and tonight?
---
Costco update: Hey Tina! They have their Christmas stuff in!
I didn't see any crocks though...
9/4/02 2:14:58 PM
---
Any thoughts on that?
---
Wednesday 9/4/02 2:10:32 PM
---
For the Lonely Loser...
Sometimes...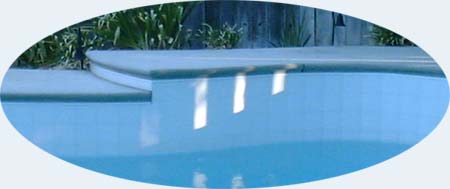 Those board gaps are less than an inch wide, but with the right sun angle and the curve of the pool...
---
No, this isn't a photoblog; but sometimes when you're too beat for cognitive thought, a picture is worth a thousand words...
9/3/02 3:53:56 PM
---
Any thoughts on that?
---
Tuesday 9/3/02 3:43:19 PM
---
While most of us were working our tails off...
One was just resting his...
9/2/2002 10:06:57 PM
---
Any thoughts on that?
---
Monday 9/2/2002 9:54:07 PM
---
I thought it was hot yesterday...
But it hit 103F here today...
---
...and still hanging around in the evenings:
Off to blade in a bit...
9/1/2002 6:51:12 PM
---
Any thoughts on that?
---
Sunday 9/1/2002 6:44:12 PM
---