Hmmm... I may have a quandary...
...or perhaps even a conundrum: I now have an espresso maker. I thought perhaps tomorrow morning, pending the first game of the Soccer Seeding Tournament from Hell, I could save a few bucks and brew myself up something to get me kickstarted.
Reading the instructions, I find the process involves a pressure vessel and live steam.
Ahem...
I am not exactly at my best in the mornings... Hence, the problem.
The good news is that Daniel is home with me. ...and he can dial 911.
On the other hand, he is no better in the mornings than I am (visions of him dialing 411)...
<sigh>
Updates as available...
9/13/2002 11:03:58 PM
---
Sheesh...
The air quality was so lousy here today, they cancelled the high school junior varsity afternoon games. That meant no blading until almost sundown. Good run though <g>...
---
Oh, yeah, I archived. Apologies to the dial-up crowd...
Ummm... Yeah, that would include me...
9/13/2002 8:25:08 PM
---
Any thoughts on that?
---
Friday 9/13/2002 8:21:20 PM
---
The Thursday Threesome...
Instrument of Your Peace (The full prayer can be seen here.)
Onesome. Instrument. What is your favorite instrument to play or listen to? Have a penchant for the guitar? What about the piano? Tell us about your passion... Ah, the piano... Live or on a high quality CD, one where I can hear the details of the performance. Yeah, that's mine.
Twosome. of your. Time of your life? A moment? An age? An event? Tell us about it! Hmmm... Life changing maybe? ...especially since we're talking prayer and such? Then that would be March 18, 1998 around 1530, when I became a Christian...
Threesome. Peace. Though we may wish for Peace on Earth, what gives you inner peace? God... No second guesses here. Inner peace and the ability to press on throughout...
How about you? Let us know what works for you, over on The Back Porch...
9/12/2002 12:02:04 AM
---
Any thoughts on that?
---
Thursday 9/12/2002 12:00:19 AM
---
Today's archived splash page...
---
Someone asked...
Imagine...
Your career for the past thirty-two years, your entire adult life, has been in the emergency services, first in the fire service as a fire apparatus engineer and later as a medic in the private sector. ...at times more than a career, a life. ...until some perspective is gained and you can balance once again and even put together a successful marriage.
...and you wake up one morning to head in to work to take care of yet another day of support for those on the sharp end. ...only today, the news is showing a skyscraper fire. "Not another one", you think, wishing your spouse hadn't turned the blasted thing on.
You know it's not local, simply because it's too tall. ...and you are explaining why you don't particularly like to see these. ...because they are Hell's own Bitch to fight. The equipment doesn't exist to reach that high; likely everyone above the fire floor will die unless the helicopters can land. ...and from the smoke, a very heavy smoke, that doesn't seem likely.
WT? They say that a commercial jet crashed into the tower. Oh, Lord... That explains the smoke. ...and the horror inside your brain starts leave the abstract as you learn/realize this is New York. Too close...
...and then the second plane hits as you are watching. ...and you know this is something never seen on this earth before. Something horrible taken to a new level. ...and you know deep inside that the loss of life will be terrible. One or both of those towers will likely lean and fall, hitting other buildings and crushing those on the street. ...including the rigs and the people who are answering the call.
Now the reports from the Pentagon are in. ...and the one from the Pennsylvania countryside. ...and then the first tower fails. ...and you know they are gone. All of them, inside and out. ...and you know the other tower will likely fail also, again perhaps taking other buildings with it. ...and now they are talking terrorism.
...and it is time to go to work, even though you are late. Your spouse will deal with the children and their needs well enough; after all, there's ten years of field experience there also. ...and though every nerve in your body says to stay close to home, you still work in the emergency services and today just may become even more intense than it already has.
You get to work to find people drifting in late with you. ...and you pull out the little 5 inch TV you keep around for things like today and start the process of reacting to the news. News of the buildings and the people, news of a no fly zone over the United States, news of your family as you call home to check on them again and again...
...and as the days proceed, you
write
. ...and you
write
. ...and you
write
. ...and you move on as they have moved on.
Only...
It's been a year...
9/11/2002 12:18:22 AM
---
Any thoughts on that?
---
Wednesday 9/11/2002 12:02:07 AM
---
The incentive program...
Due to a change in the soccer practice schedule, Daniel, the eleven year old, ended up not only on the store run this evening, but also on the blade run. Yeah, an eleven year old on a fifteen speed bike...
...kinda' nice to hear all the gear shifting on the straightaways <g>.
...and yeah, a little over a minute off my normal time for the four mile route.
9/10/2002 8:41:37 PM
---
Any thoughts on that?
---
Tuesday 9/10/2002 8:33:16 PM
---
Finally, a little cooler...
Yeah, it's still central Cal, but the signs are here: last Saturday, it was actually cool in the morning (defined as under 70 at daybreak) as we got up for the yard sale routine.
...and then, this evening, as I hit that sidewalk that runs between the two sub-divisions, the one underneath the 70kV powerlines, the one that's about four feet below grade, the one where the water stands after they water the grass, then one where the sidewalk is so smooth I have to call out to anyone walking ahead of me lest I shock them as I come up a little too silently... Yeah, that sidewalk. I hit it at speed and I could feel the temperature drop immediately, maybe even as much as ten degrees. That's the first time I've felt that since last winter and it definitely tells me it's time for the farmers to get those grapes on the ground and start the drying process toward raisins...
Yeah, the nights are getting cooler and the days are getting shorter.
Welcome to Autumn in the West...
9/9/2002 9:36:37 PM
---
Any thoughts on that?
---
Monday 9/9/2002 9:22:38 PM
---
Just putting a cap on the week...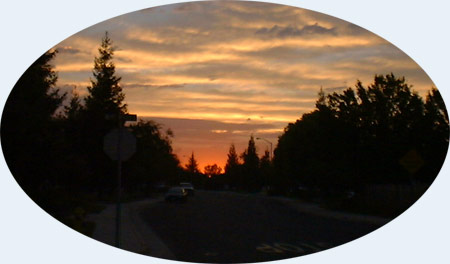 9/8/2002 10:53:13 PM
---
Any thoughts on that?
---
Sunday 9/8/2002 10:47:37 PM
---