Did I mention the foggy days here in the valley...
Yesterday...
Today...
Yeah, like that...
1/16/2003 11:45:01 PM
---
Onesome: Health- Do any of your hopes for the New Year concern health issues? Yep! Since growing season is over, I'm looking forward to getting that belt notch back out into the 'un-needed' zone once again. ...and there's some hope since I didn't fall too far behind.
Twosome: Wealth- What if you didn't have the ten million we were talking about last week on the Porch. What if you had an extra $100 dollars? Where would it go? Uh-uh! No necessities! You can only spend it frivolously! Books!!! I am soooo behind on my reading. ...and a coupla' CDs; there are one or two I'd like to have around. ...and some more coffee so I could stay awake for about a week reading and listening!
Threesome: And Happiness- What would make you happy today? ...and not world peace, just something easy for you. Hmmm... Maybe a day off work. ...and with nothing on the list at home? I mean, just a catch up day? Yeah, that would work.
What would you like? Let us know, over on The Back Porch...
01/16/2003 08:55:00 PM
---
Any thoughts on that?
---
Thursday 01/16/03 08:30:30 PM
---
Foggy days here in the valley...
For some reason, Zeppelin's "Stairway to Heaven" came to mind when I saw the tip of the crane gone into the fog...
1/15/2003 10:15:01 PM
---
Outtake (from a piece I did offsite)...
Sometimes a little work makes something out of nothing...
Click for larger version
From showing Daniel how Elements worked Monday evening...
1/15/2003 12:50:50 AM
---
Any thoughts on that?
---
Wednesday 01/15/03 12:30:00 AM
---
You know, Daniel really doesn't ask for much...
...at least here in the virtual world. So when he built his latest creation and asked if I would post it, well...
...and he handled the set design and detailed the cropping and image tweaks!
1/13/2003 09:20:00 PM
---
Okay, I just don't do politics...
That's a given here.
...but it may not be why you think.
That's a link to a discussion started by an article about apathetic GenXers...
Yeah, like Dave. Now there's genuine apathy, right?
Yeah, I didn't think so...
1/13/2003 12:30:00 PM
---
Any thoughts on that?
---
Monday 01/13/03 12:00:00 PM
---
Just a wisp...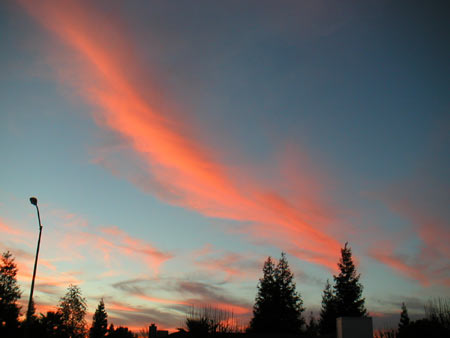 But still pretty in its own way....
1/12/2003 09056:15 PM
---
Movin' on up...
She told me she replaced her Vin Diesel wallpaper on her computer with a picture of the two of us.
Yep, that's a good sign...
1/12/2003 03:03:03 PM
---
Any thoughts on that?
---
Sunday 01/12/03 03:00:00 PM
---
Sunset...
I thought maybe I'd grab a sunset shot this evening, since the clouds moving in were making it look kinda' cool...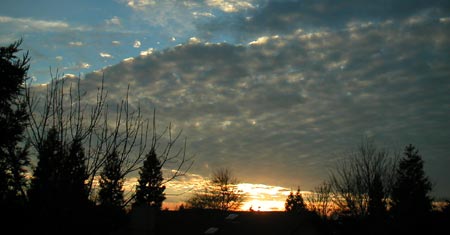 ...and then it got real interesting:
(click the graphic for a larger version)
Sometime I'll have to publish the transition series at Fixed Focus...
1/11/2003 10:40:41 PM
---
Any thoughts on that?
---
Saturday 01/11/03 10:30:00 PM
---